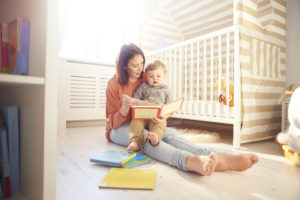 Winter in New Haven can be brutal, so you may be considering cranking up the heat to stay comfortable. But if you have a new baby at home, you might want to think twice.
Children under a year old are more sensitive to heat, and overheating can increase the risk of SIDS. Fortunately, there are steps you can take to keep your baby safe and comfortable. Here are five tips for regulating your nursery temperature.
1. Don't over-bundle.
You may be tempted to wrap your baby in several layers of clothes and several blankets to make sure they don't freeze. But this can trigger overheating. A good pair of pajamas and a light blanket should be plenty. And don't cover their head while they're sleeping. The head helps regulate body temperature, and any kind of headwear could make them too hot.
2. Set your nursery temperature.
If you don't have a zoning system, consider investing in one. It allows you to set your nursery to an ideal temperature for your baby (between 65 and 72 degrees), while keeping the rest of your house warmer, to suit your own comfort needs.
3. Position the crib.
Make sure the baby is out of the line of direct heat. Keep the crib away from vents and registers that could blow heat on them. And if you're using a space heater, keep it at least a few feet away.
4. Use a sleep sack.
If your baby is having a hard time keeping warm, consider exchanging the blanket for a sleep sack: a warm but lightweight wearable blanket. If you go this route, don't put an extra blanket on top. Limit them to a single layer.
5. Pay attention.
Every baby is different. Pay attention to how yours seems to react in higher or lower temperatures, and adjust the thermostat accordingly. Some experts recommend sleeping in the same room as your baby for the first six months, to get a feel for their temperature preferences.
To learn more about regulating your nursery temperature or the rest of your home, contact us at Hartman Brothers today. We proudly serve New Haven's HVAC needs.
Our goal is to help educate our customers in New Haven, Indiana and surrounding Fort Wayne area about energy and home comfort issues (specific to HVAC systems). For more information about other HVAC topics, download our free Home Comfort Guide or call us at 260-376-2961.