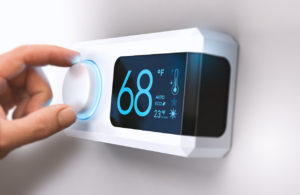 With the kids home from school all summer long, it's time to change your HVAC schedule to keep them cool and comfortable. It's time to change your thermostat to reflect their summer vacation settings.
Recommended Temperature Settings
The U.S. Department of Energy (DOE) suggests keeping the temperature at 78 degrees F during the summer. This is cool enough to provide comfort and energy savings at the same time. Installing ceiling fans or using portable fans will help family members feel cooler, as will closing blinds and drapes when sun hits the windows.
When the whole family will be away on a routine basis, bump the temperature up a few degrees. If your HVAC system is fairly new and efficient, you could easily turn it up to 84 degrees and program the thermostat to start cooling it back down to 78 about 30 minutes before you return.
Some energy experts recommend increasing the temperature at night while you sleep to take advantage of cooler temperatures outdoors. Before you decide to follow this HVAC schedule, ask your family members if their sleep habits are influenced by indoor temperatures.
Medical research has shown that people sleep sounder in cooler temperatures. If you or anyone else needs to be cool to sleep well, lower the temperature from 78 to 74 for better sleep. Since the average summer nighttime low in Fort Wayne is in the low 60s, your home may cool down well before morning and the A/C will automatically turn off.
Changing the Thermostat
Unless you have a smart thermostat that senses changes to your schedule based on your presence, consult your owner's manual to change the settings. Most have settings for waking hours, sleeping and away hours and the temperature transitions before you return. Yours may have a weekend schedule and let you program it for vacations.
Changing your HVAC settings for summer will keep your family comfortable while they enjoy their free time. For more information, contact Hartman Brothers Heating & Air Conditioning, providing HVAC services for Fort Wayne homeowners.
Our goal is to help educate our customers in New Haven, Indiana and surrounding Fort Wayne area about energy and home comfort issues (specific to HVAC systems). For more information about other HVAC topics, download our free Home Comfort Guide or call us at 260-376-2961.