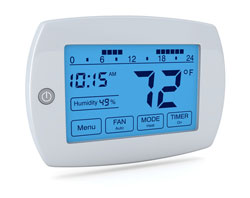 Does your programmable thermostat baffle you? The controls can be confusing if you don't understand how to program them, or how to get  the most out of that programming. Programmable thermostats are designed to help you operate your HVAC system efficiently. Here's how that can happen in your home.
Programming Modes
Programmable thermostats are available in four basic scheduling modes so that you can raise or lower the thermostat depending on when the home's occupants are sleeping or away.
Week-long program. If you're home most of the time, this may be the best program for you. One heating/cooling plan is set for the week.
5-2 program. Program one schedule for five days, lowering or raising heating and cooling depending on when family members are asleep or away. Program a different schedule for Saturday and Sunday.
5-1-1 program. This programming is similar to a 5-2 programmable thermostat. The only difference is that you program different schedules for both Saturday and Sunday.
7-day program. This type of thermostat is recommended for people with erratic schedules, since you can program a different schedule every day.
Tips for Best Use
Once you've selected the right thermostat for your schedule, follow these tips for most efficient use of the device.
Don't crank your thermostat way up or down in the mistaken belief it will heat or cool the home any faster.
Maintain energy-saving "set points" of at least eight hours long for your thermostat during the day and at night. Your system will cycle more efficiently during these longer periods when the temperature remain consistent.
As much as possible, avoid holding or overriding the program schedule. Constantly interrupting the programming and changing the temperature will result in inefficient operation.
Don't use the "hold/permanent/vacation" feature for day-to-day operation. This feature is best used when you can set the temperature a few degrees up or down when you're planning to be away.
To learn more about using your programmable thermostat efficiently, call Hartman Brothers Heating and Air Conditioning. We've served Fort Wayne homeowners since 1963.
Our goal is to help educate our customers in New Haven, Indiana and surrounding Fort Wayne area about energy and home comfort issues (specific to HVAC systems). For more information about programmable thermostats and other HVAC topics, download our free Home Comfort Resource guide.
Credit/Copyright Attribution: "lucadp/Shutterstock"