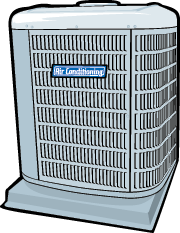 While it might seem as if a central A/C runs itself with minimal interference from the homeowner or the home's occupants, that isn't the case. There are some basic rules in order to get optimum efficiency and performance out of your cooling system. Much of this involves being aware of the following things to avoid doing to your A/C.
Forgetting Annual Maintenance
During a preventative maintenance tuneup, a qualified HVAC technician will inspect the whole A/C system, including the air filter, refrigerant level and airflow. He will also replace any worn parts and address small problems before they develop into larger ones. An air conditioner that hasn't received annual maintenance will lose efficiency, work harder and break down more often.
Neglecting the Air Filter
The air filter should be checked monthly and changed when dirty. A clogged filter will force your cooling system to work harder to blow air across the evaporator coil and circulate air in your home. This means wasted energy and parts that wear out sooner.
Making the A/C Work Harder Than Necessary 
You can make things easier for your A/C by lowering the cooling load in your home. This involves sealing air leaks in your home's outer envelope and ductwork, adding insulation where needed and taking steps such as closing curtains and shades against sunlight during summer afternoons.
Not Taking Advantage of an Energy Audit
In an energy audit or assessment, a professional energy auditor performs a number of tests on your home to ascertain where it's losing energy. The resulting recommendations will allow you to further lower your home's cooling load, making things easier for your A/C.
Letting the Cooling System Freeze Up
For one thing, this means not making it work too hard, such as setting the thermostat to 64 degrees when it's 95 degrees outside. It also means taking care a certain maintenance tasks like changing the air filter and calling an HVAC technician when you spot problems.
For more information on things to avoid doing to your A/C, contact Hartman Brothers Heating & Air Conditioning. We've served Fort Wayne homeowners since 1963.
Our goal is to help educate our customers in New Haven, Indiana and surrounding Fort Wayne area about energy and home comfort issues (specific to HVAC systems).  For more information about A/Cs and other HVAC topics, download our free Home Comfort Resource guide.
Credit/Copyright Attribution: "James J. Flanigan/Shutterstock"