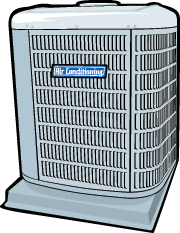 Air conditioners are sturdy pieces of equipment designed to provide years of reliable service. Over time, your air conditioner can develop problems that cause it to malfunction or fail to operate. Here are four of the more common issues that can shut down your air conditioning system:
Insufficient or neglected maintenance: Regular preventive maintenance is essential to keeping your home cooling system working efficiently and effectively. A yearly inspection and tune-up will allow an air conditioning expert to evaluate and repair your cooling system to prevent bigger issues or total system failure later on. Schedule a thorough preventive maintenance inspection near the beginning of every cooling season. If you haven't had this done yet this year, there's no time like the present.
Control failures: The electrical controls on an air conditioning system can wear and fail over time. If the air conditioner cycles off and on frequently, that will put extra wear and stress on compressor and fan controls. If electrical wires, connections and contacts become corroded, this can cause the system to malfunction. Contact your trusted local HVAC professional to inspect, fix or replace controls as needed.
Sensor and thermostat problems: The system relies on sensors and thermostats to detect indoor temperatures and other conditions that determine when the air conditioner should switch on and off. If these devices aren't working correctly, the air conditioner won't respond properly to changes in temperature. Have your HVAC professional check, calibrate and replace sensors and thermostats as necessary.
Refrigerant leaks: Refrigerant is the substance that circulates through the system, capturing and expelling heat as it changes from a liquid to a gas and back again. If there isn't enough refrigerant in your air conditioner, it will not work correctly. Your technician should check the refrigerant lines for leaks and seal them, then refill, or charge, the refrigerant to the correct manufacturer-specified level.
Since our company's opening in 1963, Hartman Brothers Heating & Air Conditioning has been a trusted provider of professional HVAC services for customers in the New Haven and Fort Wayne area. Contact us today for more information on air conditioner maintenance and for expert assistance with some of the more common problems that can happen with your cooling system.
Our goal is to help educate our customers about energy and home comfort issues (specific to HVAC systems).  For more information about air conditioners and other HVAC topics, download our free Home Comfort Resource guide.
Hartman Brothers services New Haven, IN and the surrounding Fort Wayne area. Visit our website to see our special offers and get started today!