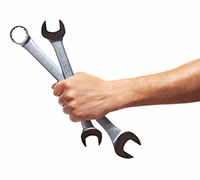 Before you know it, warmer weather will be here. Now is the time for air conditioner troubleshooting to make sure you have a cool, comfortable home even on the hottest of summer days.
Air Conditioner Troubleshooting
Troubleshooting common air conditioner problems isn't difficult. When your air conditioner isn't working properly, it is usually one of the following three problems.
Low Airflow
Low airflow from your vents is typically caused by a clogged air filter or a more serious problem like clogged or leaking duct work.
Install a new air filter. If airflow doesn't improve, call a professional to have your ducts inspected. A professional can remove clogs or check for leaks and seal the ducts to prevent cool air leaking into your attic.
Unit Doesn't Turn On
If your unit doesn't turn on, your air conditioner troubleshooting should start with changing the batteries in your thermostat. If the problem isn't dead batteries, check the breaker panel to see if the breaker for the air conditioner unit has been tripped.
Another possible reason your unit may not turn on is that the controls for your fan and compressor have worn out from use. You will need a professional to check the electrical connections on your air conditioner unit.
Unit Isn't Cooling
If your unit is running and has good airflow but still isn't cooling, check for these problems while troubleshooting air conditioner problems.
Drainage problems – While your A/C is running, check the outside unit to see if it is draining properly. If the drain tube is clogged, your system cannot remove the condensate and cool properly.
Refrigerant – Call a professional to check the refrigerant levels and to check for leaks.
Thermostat – Check to make sure the unit is set to "cool" and the temperature is set below the current room temperature.
Troubleshoot your air conditioner to make sure it works before you really need it. For more expert advice about air conditioner trouble shooting, please contact us at Hartman Brothers Heating & Air Conditioning Inc.
Our goal is to help educate our customers in New Haven, Indiana and surrounding Fort Wayne area about energy and home comfort issues (specific to HVAC systems). For more information about air conditioners and other HVAC topics, download our free Home Comfort Resource guide.
Credit/Copyright Attribution: "kurhan/Shutterstock"