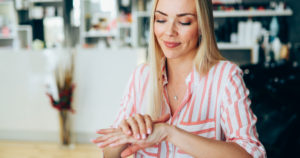 Your air conditioner blissfully tempers the blazing summer sun with a cool blast of air. But did you know that the cold, comforting air could harm your skin? Let's take a closer look at the negative A/C effects on your skin.
Dry Skin
Air conditioning systems tend to remove the moisture in indoor environments indiscriminately. This implies they also pull moisture from your skin. That makes your skin's outer layers very dry. Eventually, the inner layers are affected, making your skin feel stretchy, flaky, and itchy.
Reduced Oil Production
Your skin naturally produces oils that are beneficial to its health and texture. Air conditioning lowers the temperature of your surroundings. As a result, sweat production reduces, causing toxins to remain within your skin. Oil production also reduces, leading to dull, dehydrated, and unhealthy skin.
Skin Disorders
Continual drying of your skin can cause dermatitis. If you already have a skin condition like rosacea, psoriasis, or eczema, air conditioning can aggravate it.
Prematurely Aging Skin
Air conditioning can also make your skin age prematurely. Your skin begins shriveling as it loses its moisture. Consequently, its elastic properties reduce. Failure to replace the water that's constantly being drawn out of your skin tissues results in dry skin that's prone to wrinkling and creasing.
How to Combat A/C Effects on Skin
The good news is you don't have to sacrifice air conditioning to protect your skin. Follow the tips below:
Change your A/C filters every four to six weeks.
Drink at least eight glasses of water daily.
Apply a moisturizer regularly to replace the hydration that's been lost from your skin.
Take regular breaks from air-conditioned rooms.
Run a humidifier whenever you're planning to use your air conditioner for an extended period.
As you enjoy the welcomed relief that air conditioning provides from the sweltering outdoor conditions, don't forget to take the necessary precautions to diminish its drying effects on your skin. To learn more about A/C effects, contact Hartman Brothers Heating & Air Conditioning. We provide reliable air conditioning sales, repair, and maintenance to residents in the Fort Wayne area.
Our goal is to help educate our customers in New Haven, Indiana and surrounding Fort Wayne area about energy and home comfort issues (specific to HVAC systems). For more information about other HVAC topics, download our free Home Comfort Guide or call us at 260-376-2961.