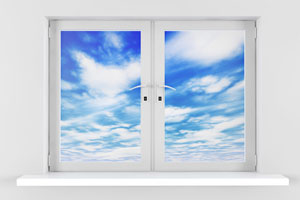 Air purifiers can provide relief from spring and fall pollen allergies, as well as other air contaminants, but only if you use them correctly. Correct use includes finding just the right location for your air purifier.
To function safely and efficiently, air cleaners need at least one foot of open space on all sides. Avoid pushing your air cleaner up against the wall or into a corner. It should be placed in a low-traffic area to prevent tripping hazards and other safety issues.
By the return air vent - If you have a large portable unit sized to clean the air in your entire home, position it near your heating and cooling system's return air (air intake) vent. This helps circulate purified air to all of your rooms.
Close to you - Placing an air cleaner close to where you most often sit ensures you're breathing in the cleanest air in your house. Because we spend so many hours asleep, the bedroom is another good location, particularly if you're managing seasonal allergies.
In the kitchen - Most of the humidity, bacteria and odors in the average home come from the kitchen, so placing air purifiers in this room can greatly improve indoor air quality. UV air purification systems with a HEPA filter can cut down on germs and some odor-causing particles. You can position a unit next to the trash, by the stove or near the kitchen table.
By the front door - This is a good choice you're using a UV air purifier to neutralize biological contaminants, such as mold spores, bacteria and viruses. Many of these particles get in through your front door, so an air purifier here will zap them before they get too far.
In the basement - Placing an air cleaner in a finished basement can help keep down dust and musty odors these rooms tend to accumulate. Fresher air can make doing the laundry or hanging out in your basement game room healthier and more enjoyable.
For more pro tips on improving your home's air quality, contact Hartman Brothers Heating & Air Conditioning, Inc. in the New Haven and Fort Wayne areas.
Our goal is to help educate our customers in New Haven, Indiana and surrounding Fort Wayne area about energy and home comfort issues (specific to HVAC systems). For more information about air purifiers and other HVAC topics, download our free Home Comfort Resource guide.
Credit/Copyright Attribution: "doomu/Shutterstock"