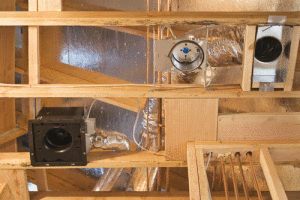 Eventually, if your home has an accessible attic, you're probably going to end up climbing up to perform maintenance, repairs, or to store or retrieve belongings. And if not you, technicians likely will venture into your attic to work on ventilation, ducts, insulation, air sealing, electrical issues, etc. Either way, you should consider attic safety before you or a professional technician goes into the attic. Following are some attic safety tips that will minimize the risk of injury and other mishaps in your attic.
Planning. Before ascending into your attic, make sure you have all the necessary tools, You want to reduce the number of times you have to go up and down, especially if attic access involves using a ladder or steep stairway. Good lighting is essential as well, either with lighting fixtures in the attic or your own flashlight or electric lantern.
Dress properly. You'll get dirty working in the attic, so dress accordingly. Gloves and a cap or hat also are recommended to protect your hands and head from itchy insulation. If you expect to be crawling around in the attic, plan ahead with kneepads.
Anticipate conditions. If it's summertime, you can expect the attic to get very hot as the sun beats down on the roof all day. Plan to perform your attic tasks in the morning before it gets hot. Take some water into the attic with you, once again to avoid the hassle and risks of climbing up and down into the attic. Buy an OSHA-approved double-strap dust mask or particulate respirator to protect you against airborne contaminants in the attic. Watch where you're going in the attic, to avoid falling between joists and other support fixtures. You can't depend on drywall or insulation to support your weight. Be wary of exposed nails and splinters, too.
Swallow your pride. If you're not sure about your ability to address an issue in your attic, hire a professional.
For more helpful tips about attic safety, please contact us at Hartman Brothers Heating & Air Conditioning, providing superior service in the Fort Wayne area.
Our goal is to help educate our customers in New Haven, Indiana and surrounding Fort Wayne area about energy and home comfort issues (specific to HVAC systems). For more information about attic safety and other HVAC topics, download our free Home Comfort Guide or call us at 260-376-2961.
Credit/Copyright Attribution: "David Papazian/Shutterstock"