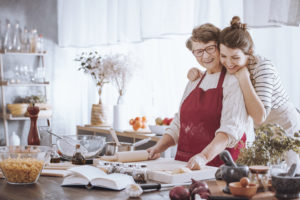 The holidays are a time for baking. Home-baked goods provide a perfect ending to dinner and are one of the sweetest gifts you could offer to loved ones. But if you're looking to make bakery-worthy bread, pies, cookies, or other goodies for family and friends, it's essential to understand how your indoor climate affects baking.
Humidity
Both lack of humidity and excessive humidity can wreak havoc on your baking endeavors. Air that's too dry also dries out your ingredients. As a result, instead of having that soft and chewy feel that you'd want in every bite, your usually delicious cake recipe can end up crumbling like sawdust.
Baking soda, baking powder, flour, salt, and sugar can absorb moisture if your kitchen is humid.
Temperature
Low temperature can sneakily ruin your baking projects. It can stall out the creaming process, leaving sugar and butter smeared around your bowl as a heavy paste that won't budge. When it comes to proofing bread, the dough takes significantly longer to rise in low temperatures. Pie dough can feel dry, stiff, and crumbly in the winter months. Adding more water to it creates new problems. It causes more gluten development, which makes the dough tough and susceptible to shrinking as it bakes.
Warm conditions can make bread dough soft and sticky, causing quality problems and increased waste as it comes into contact with surfaces.
Ensuring temperature and humidity are properly regulated will make the quality of your baked goods significantly better.
For the best indoor climate control tips and solutions in the Fort Wayne area, contact the experts at Hartman Brothers Heating & Air Conditioning. We custom create a heating or cooling system to meet your current needs as well as the specifics of your home.