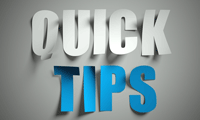 Boiler issues are no laughing matter in the middle of a northern Indiana cold spell; neither are the ominous noises signaling a troubled system. Use these tips to help quickly find and troubleshoot common issues so you can keep the heat pumping until professional HVAC help arrives.
Common Causes Of Boiler Noises
Boiler noises can be unsettling to household occupants, and may raise concerns about the integrity of the system. While noises emanating from the walls, floor and pipes, such as gurgling and whistling, don't necessarily prove a maintenance issue exists, some noises are better indicators than others about which to be concerned.
Banging – Loud banging noises may signal a problem with the oil pump or kettling – the buildup of lime deposits on the heat exchanger. Lime accumulation reduces efficiency, but presents no immediate concern for a boiler shutdown. If the oil pump is the issue, turn off the system to prevent further damage.
Rumbling – Rumbling noises at startup may simply mean a good cleaning is in order. Rumbling noises at shutdown could indicate an oil leak in the combustion chamber. This may cause a more serious problem of puff-back.
Whistling and gurgling – These noises may indicate air in the system or low water pressure. These issues may be handled during routine maintenance.
Vibrations – System vibrations are typically not good vibrations. Worn motor bearings are common causes in older systems, or you may have a faulty transformer or failing fuel unit on your hands.
Repair or Replace?
If your system has a recent history of trouble, or if the repair estimate is more than you are comfortable investing into an aging system, it may be time to upgrade to a new system. These are the basic steps you can expect from your contractor:
Perform an energy audit and efficiency upgrades to seal up your home.
Conduct a heat gain/loss calculation and properly size the new system.
Provide a return-on-investment (ROI) analysis so you can compare lifetime costs of competing systems.
If you have questions about your boiler, or would like more information about a system upgrade, please contact us at Hartman Brothers Heating & Air Conditioning today.
Our goal is to help educate our customers in New Haven, Indiana and surrounding Fort Wayne area about energy and home comfort issues (specific to HVAC systems).  For more information about boiler maintenance and other HVAC topics, download our free Home Comfort Resource guide.
Image courtesy of Shutterstock