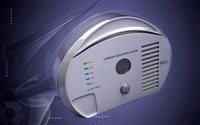 Keeping yourself safe from carbon monoxide exposure involves doing what you can to reduce and eliminate carbon monoxide (CO) from your home. In order to do this, you need to understand where carbon monoxide comes from, and how to properly deal with it in a way that stops any existing leaks, and prevents new ones from occurring.
Sources of Carbon Monoxide
Carbon monoxide comes from heating appliances that burn either natural gas, propane, heating oil, coal or wood – essentially anything that can be combusted to produce heat. A buildup of the gas occurs when your furnace, water heater, stove or gas dryer is not properly burning all of the fuel that is supplied to it, and then isn't properly removing exhaust gases. The amount of CO exposure you may get depends on its concentration. A well-ventilated area will see hardly any carbon monoxide concentration, whereas a small utility room with a faulty furnace may see a potentially fatal amount of carbon monoxide build up very quickly.
How to Get Rid of Carbon Monoxide
Proper ventilation is key to making sure that carbon monoxide does not concentrate in harmful quantities in your home. If your HVAC system is working properly, any trace amount of carbon monoxide that might be produced will be taken out of the indoor air. The bigger problem is usually the source of the carbon monoxide, more specifically, whatever heating appliance is malfunctioning and allowing the gas to escape. You can prevent CO from building up in your home by having an HVAC technician take a look at your system and its exhaust ventilation to make sure that any CO is removed from your home and has no way of getting back in. The technician may advise you to increase ventilation in your home, get new heating appliances, or have your current ones fixed.
More information about what you can do to prevent carbon monoxide exposure, or anything else relating to your home's heating and cooling systems, can be found at Hartman Brothers Heating & Air Conditioning. We have been proudly serving the Fort Wayne area for over 50 years.
Our goal is to help educate our customers in New Haven, Indiana and surrounding Fort Wayne area about energy and home comfort issues (specific to HVAC systems). For more information about carbon monoxide and other HVAC topics, download our free Home Comfort Resource guide.
Credit/Copyright Attribution: "Creations/Shutterstock"