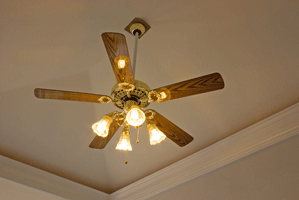 Air conditioning your home can be quite expensive when it requires constant cooling during the summer. Constantly relying on your air conditioner uses up a lot of energy, as well as wearing out your A/C. However, you can reduce your air conditioning costs by installing and using ceiling fans in your Indiana home. They provide a perfect complement to the cooling done by your A/C.
How do ceiling fans help your air conditioner? They create a wind-chill effect by blowing air downward across your body. This allows you to either raise the thermostat temperature by up to four degrees without any comfort loss, or provide the same amount of enhanced cooling. Imagine you're taking a nap on the couch in your living room, the A/C's turned on, and the room still feels warm and stuffy. The first reflex likely would be to go turn down the A/C a few degrees. Resist that temptation and switch on a ceiling fan, and you'll get the same cooling effect. If the temperatures are marginally warm outside – say in the upper 70s or low 80s – you might be able to provide sufficient cooling by just opening windows and using your ceiling fans, especially early in the day. Energy-wise, this is a much cheaper option than running the A/C.
Fans should only be installed in rooms with ceilings that are at least 8 feet high. Ceiling fans should be installed at around 7-9 feet from the floor and 10-12 inches below the ceiling. The fan blades should be 8 inches from the ceiling and no less than 18 inches from the walls. A 36- or 44-inch fan should be used to cool rooms of 225 square feet. For larger rooms a fan size of 52 inches or more will be sufficient.
Using bigger fan blades also helps distribute air more efficiently throughout your rooms, although if the blades are too big, they can blow things around, so make your choice carefully. Buying ceiling fans with Energy Star certification will provide you with more trouble-free service and cheaper operation in the long run. They are also likely to produce less noise.
Contact Hartman Brothers Heating & Air Conditioning for more expert advice on cooling and heating issues in your Fort Wayne area home.
Our goal is to help educate our customers in New Haven, Indiana and surrounding Fort Wayne area about energy and home comfort issues (specific to HVAC systems).  For more information about ceiling fans and other HVAC topics, download our free Home Comfort Resource guide.
Image courtesy of Shutterstock