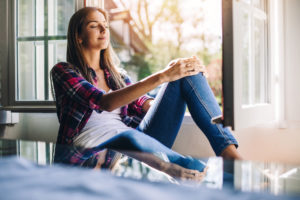 Air Quality Awareness Week takes place April 29-May 3 this year. This Environmental Protection Agency (EPA)-sponsored event is held annually to highlight outdoor air quality concerns nation-wide. Here in Northeast Indiana, we contend with two main types of outdoor pollutants – low-level ozone and particulate matter.
According to the EPA, the air inside our homes can be more polluted than outdoor air in an industrialized city. This makes taking the following measures to improve your home's air quality an ideal way to celebrate Air Quality Awareness Week.
Reduce Chemical Pollutants
Many commonly-used household products release hazardous chemicals that degrade air quality. To reduce your exposure, start using "green" cleaners, choose "eco-friendly" and low-VOC materials and products whenever possible. Plus, don't keep solvents, paints, fuels, aerosol sprays, glues or pesticides inside your home.
Keep Humidity in Check
High humidity levels allow mold, mildew and dust mites to flourish. To keep it under control, use your kitchen and bathroom fans to clear out moisture when cooking, showering or bathing. If your cooling equipment doesn't remove humidity effectively, have the system assessed to see if it needs replacement, or if you need to have a dehumidifier added.
Clean Up Your Air Supply
Your HVAC air filter is only designed to capture large particles to keep them from harming sensitive system components, so it won't have a significant impact on your air quality. However, there are add-on air cleaners available that are effective against minute particles, allergens, viruses, bacteria and even chemical vapors. Because more effective filtration can reduce an HVAC system's airflow, such equipment should only be installed by an experienced professional.
Give Your Ductwork Some Attention
Your home's air supply gets circulated and distributed through your HVAC duct system. If the ducts are damaged and leaky or contain excess debris or mold, your air quality can be compromised. To ensure you have a healthy air supply, schedule a ductwork inspection and complete recommended maintenance, cleaning or repairs.
If you're prioritizing air quality awareness in your Fort Wayne home and need personalized advice on effective solutions, contact us today at Hartman Brothers Heating & Air Conditioning.