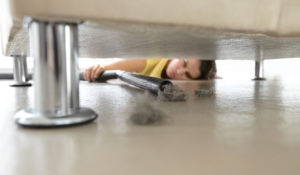 Dust mites live inside carpets, soft furnishings, clothes, bedding, and any other place where dust usually accumulates. Waste from these microscopic bugs is a significant cause of allergies. Regardless of how clean your home is, it's not possible to completely eliminate dust mites. Fortunately, there are certain dust mite protection tips you can follow to lower their numbers dramatically.
Change air filters regularly 
Dust mites usually find their way to sources of dust, such as dirty air filters. If your HVAC system has a dirty filter, it will blow dust and dust mites around your home. Replace your filter more often to reduce dust mite activity. Talk to your HVAC contractor to find out the best filter for your system and dust mite elimination needs.
Install an air purifier or cleaner 
In addition to a clean, high-quality air filter, you may want to install an air purifier to help rid your home of these critters. A portable purifier will only work for a small part of your home. To effectively combat dust mites and other irritants, consider installing a whole-home air cleaner or purifier.
Dehumidify the air 
Dust mites thrive in warm, humid environments. Keeping the relative humidity below 70 percent slows down their rate of reproduction. Besides running the A/C to keep the air cool and dry, you can use a dehumidifier to monitor humidity levels and maintain them at low levels.
Replace carpets 
Carpeted floors are a dust mite's paradise. Replace the carpets in your home with hard flooring like tile or linoleum. If you can't do away with your carpet, ensure you clean it regularly using a vacuum with a HEPA (high-efficiency particulate air) filter.
Have ductwork cleaned 
Dust mites can live in your home's ducts. As dust accumulates in them, it's continuously circulated throughout your home, including excrement from the bugs. Avoid this by scheduling a professional duct cleaning.
The steps above provide proactive dust mite protection for your family. If you need heating, cooling, and indoor air quality products and services in the Fort Wayne area, contact the experts at Hartman Brothers Heating & Air Conditioning.
Our goal is to help educate our customers in New Haven, Indiana and surrounding Fort Wayne area about energy and home comfort issues (specific to HVAC systems). For more information about other HVAC topics, download our free Home Comfort Guide or call us at 260-376-2961.