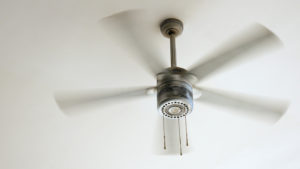 Are you looking for ways to save money on cooling your home this summer? If so, there are lots of energy-saving tactics to try, but one of the easiest is changing the blade direction on the ceiling fans throughout the house. Changing ceiling fan direction isn't difficult, and tackling this one simple chore before cooling season arrives can help you reduce your summertime energy bills and bring you other cost-saving benefits like longer equipment service life too.
The Ceiling Fan Direction – Savings Connection
The blades on a ceiling fan are designed to rotate either forward or backward, and it's easy to change direction by sliding the little button found on the fan housing. When you transition from heating to cooling, you want to make sure the blades are set to spin in a forward direction so they move counter-clockwise. In this position, the blades push air downward, and this creates a wind chill effect that helps evaporate perspiration and cools the skin.
Using your ceiling fans like this can help you save money in a couple of different ways:
Since you feel cooler, you can raise the temperature setting on your thermostat by a few degrees without any loss of comfort, and this can reduce your energy bills all season long.
Because your A/C or heat pump doesn't have to run as long or as often to maintain a higher temperature setting, it doesn't have to work as hard. Putting less strain and wear on your cooling system reduces the risk of costly equipment breakdowns and prolongs the components' lifespan too.
Ceiling Fan Savings Caveat
To gain the greatest energy savings, get into the habit of switching off the ceiling fan when you exit a room. Ceiling fans can't lower the temperature like an A/C, they just cool the skin, so there's no benefit in leaving the fans on in unoccupied rooms. In fact, shutting off the fans will save on the energy each one consumes when it's running.
To learn more energy-wise money saving strategies for your Fort Wayne home, contact us at Hartman Brothers Heating & Air Conditioning.
Our goal is to help educate our customers in New Haven, Indiana and surrounding Fort Wayne area about energy and home comfort issues (specific to HVAC systems). For more information about other HVAC topics, download our free Home Comfort Guide or call us at 260-376-2961.