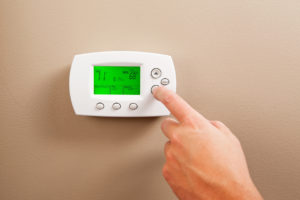 Just as important as the right HVAC system is the right thermostat. But what kind does your home need? There are a number of thermostat options out there, depending on your needs for home comfort, energy savings, convenience, and more. Let's take a look at which thermostat is right for you.
Manual Thermostat
Particularly common with older HVAC systems, a dial lets you set the approximate temperature you want for your home. Switches let you turn it on or off, toggle between heating and cooling, or turn the fan on. Unfortunately, regulating the thermostat manually can use excess energy -- particularly if you forget to shut it off.
Programmable Thermostat
A great way to save energy, programmable thermostats let you switch automatically between multiple settings. When everyone's home, you have your comfort setting, providing heat or cooling as needed. But during the day, when you're at work and the kids are at school, you can set your thermostat to switch automatically to an energy saving mode, so you're not paying to heat or cool an empty house.
There are thermostat options with different programmable settings for weekends than for weekdays, and even ones that let you set each day individually, for people whose schedules fluctuate regularly.
Smart Thermostat
Wi-Fi-enabled, these thermostats let you set your home's temperature from anywhere, using your mobile device. So you can turn your system on remotely as you're on your way home, and be greeted with perfect comfort as you walk through the door. It also lets you set a much more detailed and precise schedule than a regular programmable thermostat. Finally, a smart thermostat can regulate the temperature based on weather patterns and other factors in your area, to keep you comfortable under any conditions.
They're more expensive than regular programmable thermostats, but if you want more control over your home comfort and better energy savings, even amid unpredictable schedules or conditions, a smart thermostat is your best option.
To learn more about thermostat options for your home, contact us at Hartman Brothers Heating & Air Conditioning. We're Northeast Indiana's trusted source for quality HVAC solutions.
Our goal is to help educate our customers in New Haven, Indiana and surrounding Fort Wayne area about energy and home comfort issues (specific to HVAC systems). For more information about other HVAC topics, download our free Home Comfort Guide or call us at 260-376-2961.