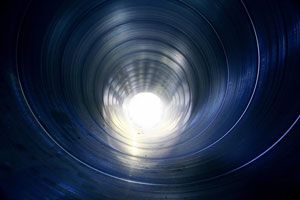 If your air conditioning isn't performing adequately, it could be time to get your ductwork inspected. A professional ductwork inspection can help you avoid excessive cooling bills and poor indoor air quality (IAQ), and may help prevent HVAC equipment breakdowns.
Typical symptoms
Under-performing A/C
High energy bills
Debris blowing from ducts
Musty odors
Noisy operation
If you notice any of these, check your ducts.
Common problems
Leaks, damage, loose joints: gaps allow cooled air to escape, wasting energy. They also let unfiltered air into the system, exposing your household to whatever contaminants are present outside the duct. These can include:
Uninsulated ducts allow conditioned air to be warmed. For example, ductwork passing through a poorly-ventilated attic that tends to overheat should be insulated.
Dirt, debris and obstructions, including:

Debris left over from installation
Dirt and dust
Mold and fungi
Clogged filters
Kinks and sharp bends in flexible ducts
Dead ends (ducts that aren't connected to an outlet or register)

Improperly-sized ducting and bad layouts can prevent conditioned air from flowing properly, wasting energy and leaving some rooms less cool.
Insufficient return ducts lead to unequal air pressure and inefficient A/C operation.
It's estimated that the average household loses between 10 and 30 percent of its conditioned air through improperly installed, damaged or uninsulated ducts. With the right interventions, this can be reduced to five percent. You may be able to repair minor faults yourself: change clogged air filters, seal gaps with tape or sealants, and remove any blockages.
More serious issues may require expert attention. It's a good idea to get your ductwork inspected by a professional — they're trained to recognize and correct issues that might otherwise be overlooked, and have the skills to complete effective repairs and upgrades.
Founded in 1963, Hartman Brothers is proud to offer a range of HVAC products and expert services to customers in the Fort Wayne, IN region. If you still have questions about ductwork maintenance or other HVAC topics, contact Hartman Brothers for advice you can trust.
Our goal is to help educate our customers in New Haven, Indiana and surrounding Fort Wayne area about energy and home comfort issues (specific to HVAC systems). For more information about ductwork and other HVAC topics, download our free Home Comfort Resource guide.
Credit/Copyright Attribution: "Kichigin/Shutterstock"