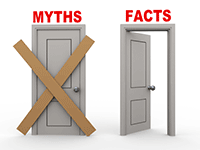 Maximizing energy savings in your home requires a concerted effort to actually conserve more energy. Read through these common home energy myths to make sure your energy-saving efforts don't go unrewarded.
Myth: Adjusting the Thermostat to Extreme Temperatures Cools or Heats the Home Faster
You arrive home from work to a chilly or hot house and instinctively turn the thermostat way up or down. Turning your thermostat up or down dramatically following a set-back/up period only wastes more energy. The better strategy is to upgrade to a programmable thermostat, so your home is at your favorite temperature when you arrive home from work and wake up in the morning.
Myth: High-Efficiency HVAC Systems Aren't Worth the Extra Cost
For homeowners in the Fort Wayne area, this simply isn't true. High-efficiency furnaces and A/Cs typically cost more than less efficient models. However, the energy savings during the life of the system will compensate for the added cost, and then some. Moreover, you'll be enjoying superior features and greater comfort.
Myth: A High-Efficiency HVAC System is All You Need to Lower Energy Bills
High-efficiency furnaces can reach 98 AFUE, which is about 40 to 50 percent more efficient than older furnaces. However, the efficiency of your home is equally important for full HVAC efficiency. For instance, if your home's envelope is leaky and insulation is lacking, your high-efficiency heating dollars will be wasted. Make sure to perform an energy evaluation to locate envelope deficiencies before you install a new system.
Myth: Leave the Lights on Can Help Them Last Longer and Save Energy
With so many effective ways to reduce lighting costs, it's a shame to waste energy in your home. New light-emitting diodes (LEDs) use up to 80 percent less energy than traditional incandescent bulbs. Moreover, you can use motion detectors, timers and dimmer devices to reduce lighting costs even more.
To make sure these home energy myths have no place in your New Haven home, contact Hartman Brothers Heating & Air Conditioning, Inc. for all your home efficiency and HVAC needs.
Our goal is to help educate our customers in New Haven, Indiana and surrounding Fort Wayne area about energy and home comfort issues (specific to HVAC systems). For more information about home energy and other HVAC topics, download our free Home Comfort Resource guide.
Credit/Copyright Attribution: "Ribah/Shutterstock"