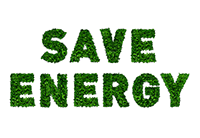 Keeping your energy usage as low as possible can significantly reduce your utility costs, allowing you to spend more money actually enjoying the spring weather in Fort Wayne. Here are a few simple ways to save more energy at home:

Have Your Air Conditioner Serviced
Regular maintenance, such as cleaning the coils, checking the refrigerant level, changing the air filter and cleaning the blower fan, helps to keep your air conditioning system running as efficiently as possible and prevents problems in the future. Have your HVAC contractor service the system at least once a year, and be sure to check the air filter yourself at least once a month.
Seal and Insulate Your Home
Have a professional energy audit done in your home. Using tools such as a blower door test or infrared cameras, a professional will to help identify areas that have air leaks or insufficient insulation. Work with a contractor to add insulation where required and to seal air leaks using caulk and weatherstripping. Together, these improvements can reduce your heating and cooling costs by over 10 percent.
Install a Programmable Thermostat
Ask your HVAC contractor to install a programmable thermostat, which can reduce your heating and cooling costs by up to 20 percent. To maximize your savings, keep your home at your desired temperature while you are normally there and active, then raise it by up to 15 degrees in the summer while you are at work or asleep. In the winter, reduce the temperature by the same amount during those times.
Use Fans to Reduce Air Conditioner Usage
Use ceiling fans to keep you cooler without reducing the thermostat, and consider having your HVAC contractor install a whole-home ventilation system to reduce your need for air conditioning on mild days.
Turn Down Your Water Heater
Reduce your water heater to 120 degrees, which can reduce your energy usage by over 15 percent and reduce the chance of scalding injuries.
For other simple ways to save more energy at home, talk to our HVAC experts at Hartman Brothers Heating & Air Conditioning. We serve the Fort Wayne area.
Our goal is to help educate our customers in New Haven, Indiana and surrounding Fort Wayne area about energy and home comfort issues (specific to HVAC systems). For more information about energy savings and other HVAC topics, download our free Home Comfort Resource guide.
Credit/Copyright Attribution: "Kinsei/Shutterstock"