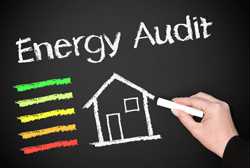 You may have several reasons for considering an energy audit for your Fort Wayne area home. First, there are the cost benefits that come from using energy in your home as efficiently as possible. Second, you may be experiencing hot or cold spots in the home, drafts, condensation, a noisy furnace, or other issues. Concerns about wasted energy, aging equipment and safety are all good reasons to get an overall picture of your home energy status.
Energy Audit Assessment and Report
A qualified energy auditor will perform a three-point check of energy use and waste in your home.
Personal circumstances including:

Number of people living there and room usage
People home during the day, (e.g. working from home, mom looking after preschool kids etc.)
Comfortable level of seasonal indoor temperature
Annual energy costs (based on your energy bills)

Exterior inspection

Looking at the home size and features where energy can be lost (e.g. windows, loose boards and gaps, electrical, gas and plumbing fittings running from inside to outdoors)

Interior inspection

The nitty-gritty of the energy audit, where thorough visual, health and safety checks are done on appliances, the electrical system and each room. Meters, temperature gauges, blower door testing and infrared imaging are all part of the auditor's toolset.
Equipped with all this data, a report is produced detailing safety issues, appliance status, recommended upgrades, and likely energy savings when you implement the energy audit recommendations.
Benefits of Implementing Audit Findings
Potential benefits include:
reduced energy usage and therefore lower energy bills
enhanced home comfort with elimination of energy waste sources
higher home market value (put the achievements into the sales brochure)
identified potentially unsafe appliances (e.g. worn equipment that may lead to carbon monoxide leaks)
smaller environmental impact with lower greenhouse gas emissions
a heads-up on appliances and systems that need to be fixed or upgraded for efficiency and performance
Expert Assistance
For detailed advice about home energy audits or any home comfort issues, please contact us at Hartman Brothers Heating and Air Conditioning. We have been looking after the home-comfort needs of the Fort Wayne area since 1963.
Our goal is to help educate our customers in New Haven, Indiana and surrounding Fort Wayne area about energy and home comfort issues (specific to HVAC systems).  For more information about energy audits and other HVAC topics, download our free Home Comfort Resource guide.
Image courtesy of Shutterstock