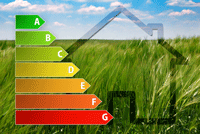 Perhaps you just bought a house and want to make sure all is fine with its insulation and airtightness. On the other hand, you might have started to notice changes in temperature in different areas of your home that do not make sense. In either case, an energy audit is just what you need to address your concerns.
While the Fort Wayne area is a beautiful place to live, it does have six months of the year where temperatures can go below 50 degrees Fahrenheit and stay there for extended periods. Scheduling an energy audit to catch any leaks of warm air escaping, or cold air coming in the house is important, not only for comfort but heating expense
What an Energy Audit Checks
The blower door test: this is a diagnostic test that uses a powerful fan mounted in an exterior door to depressurize your home.

All exterior doors and windows will be closed and interior doors must be opened.
A special gauge will measure how quickly the air pressure returns to normal after air is sucked out of the house; this shows the extent of air leakage in your home. Meanwhile, thermographic scanning equipment will show where the air is leaking, as well as where insulation is lacking.

Ductwork efficiency: Ductwork can also be tested in a similar fashion with leaks marked for repair.
What we offer as guidelines and more
At Hartman Brothers Heating & Air Conditioning, we have an energy calculation option. It will help you decide just how your present HVAC equipment compares to newer systems on the market. We have a listing of all the heating and cooling systems we offer on our site for you to explore if you feel you need to replace your present one. Of course, the best way to keep your system up to par is to buy a regular maintenance plan.
If you should have any further questions about what you need to do in order to properly assess the HVAC system in your Fort Wayne area home, please contact us at Hartman Brothers Heating & Air Conditioning
Our goal is to help educate our customers in New Haven, Indiana and surrounding Fort Wayne area about energy and home comfort issues (specific to HVAC systems). For more information about energy audits and other HVAC topics, download our free Home Comfort Resource guide.
Credit/Copyright Attribution: "pixinoo/Shutterstock"