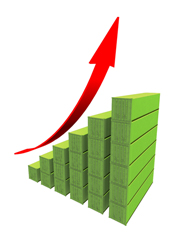 Perhaps you've lived comfortably in your Fort Wayne-area home for years, but you're thinking about selling your home now or sometime in the next several years.  Energy efficiency upgrades may be a major upfront investment, but they can easily add appeal and value for potential buyers down the road. Along those lines, here are some tips to consider:
Install a high-efficiency heating and/or cooling system. Buyers will appreciate having a modern system in place.
Seal air leaks in your home's outer perimeter with caulk, spray foam or weatherstripping, depending on the type and location of the leak.
Upgrade fixtures that use less water. Investing in low-flow faucets, shower heads and toilets will also make your home more appealing. Potential buyers will see that it's a great way to save on their water bill every month.
Install a programmable thermostat for convenience and to help save on energy when you're sleeping and away from home.
Replace standard light bulbs with more energy-efficient ones, such as compact fluorescent lamp (CFL) or light-emitting diodes (LED) light bulbs.
Examine the window frames for potential air leaks and seal them. Consider upgrading to dual-pane windows to prevent heat transfer between inside and outside.
Upgrade old appliances such as dishwashers and washing machines with Energy Star rated ones.
Consider planting leaf-bearing trees near the windows to keep the home cool in the summer and allow sunlight through in the winter when you want as much solar gain as possible.
Add more insulation to your home, especially in areas such as the attic.
You may also wish to consider commissioning an energy audit first to see where you can make specific improvements.  Buyers likely will positively respond to the upgrades in your home because they are looking for modern amenities and minimal monthly expenses. A green home may significantly decrease their energy bills every month, and they may be willing to make you a more substantial offer on your property as a result.
For more expert advice on energy efficiency upgrades for your Fort Wayne-area home, contact Hartman Brothers Heating & Air Conditioning.
Our goal is to help educate our customers in New Haven, Indiana and surrounding Fort Wayne area about energy and home comfort issues (specific to HVAC systems).  For more information about energy efficiency and other HVAC topics, download our free Home Comfort Resource guide.
Image courtesy of Shutterstock