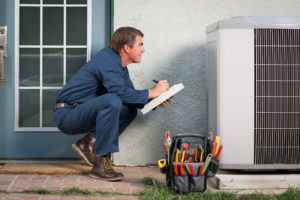 Fall is the traditional time to tackle maintenance chores to get your home prepared for the coming winter. When you're putting together a to-do list of chores, be sure to add the following essential fall HVAC maintenance tasks to make the transition from cooling to heating smoother and avoid unnecessary headaches.
Minimize Air Losses
Sealing sources of air leakage around the house this fall can increase your comfort and help lower your HVAC-related energy use throughout the coming year. First, seal gaps, cracks and holes around the exterior, the doors and windows, the attic access hatch, and where pipes, vents and wiring extrude through the exterior walls. Finally, have the condition of your HVAC ductwork checked, then get it sealed with metal-backed tape or mastic and properly insulated.
Schedule Professional Maintenance
The transition between cooling and heating seasons is the ideal time to have your HVAC system professionally inspected, tuned-up and cleaned. By tackling preventive maintenance before you need heating, you can rest easy knowing the equipment is working efficiently and safely. If your technician finds any concerning issues, you'll have time to get them addressed to help avoid any mid-winter discomfort or inconvenience.
Give Your Thermostat Some Attention
Giving your thermostat some TLC before heating season starts can help keep your home warm this winter and allow you to save energy, too. First, replace the device's batteries, then adjust your programming and temperature settings. Your HVAC technician should also inspect the thermostat to make sure it's properly calibrated and functioning well.
Promote Good System Airflow
Maintaining good airflow through your HVAC system is vital to keep it working reliably, and ensure that ample warm air gets distributed throughout your home. Replacing the system's air filter is the first step to preventing airflow restrictions during heating season. Then, vacuum all your HVAC vents, make sure the supply register louvers are completely open, and check that the registers and return grilles aren't blocked by household items that might limit airflow.
To schedule a fall HVAC maintenance appointment for your Fort Wayne home, contact us today at Hartman Brothers Heating & Air Conditioning.
Our goal is to help educate our customers in New Haven, Indiana and surrounding Fort Wayne area about energy and home comfort issues (specific to HVAC systems). For more information about other HVAC topics, download our free Home Comfort Guide or call us at 260-376-2961.