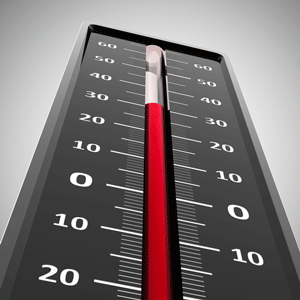 When the number on your thermostat display doesn't match up to the "feels like" temperature inside your home, it's frustrating and worrisome. A difference between the actual and displayed temperature is often due to humidity, or the amount of moisture in the indoor air. Here's a look at why this inconsistency happens, along with some suggestions on to make your home more comfortable.
How Humidity Impacts Air Conditioning
When the humidity is high outdoors, it's not unusual for a central A/C to struggle to both cool and dehumidify a home. When yours is overwhelmed, the indoor air can feel too hot and sticky even though the thermostat display is showing a comfortably low temperature.
Equipment Capacity Directly Affects "Feels Like" Temperature
Oversized cooling equipment usually worsens temperature inconsistencies, since it quickly reaches the thermostat setting, then cycles off before it can remove enough humidity. This inefficient short cycling can leave your home feeling too damp and chilly when the A/C is running, and too warm and sticky when it cycles off.
How to Bring "Feels Like"and Actual Temperatures Into Balance
To bring the "feels like" temperature into balance with the number on the thermostat's temperature display, you need to keep humidity in the ideal range of 30 to 50 percent. There are a few ways to improve humidity control:
Keep the cooling equipment well maintained — An annual tuneup ensures that your A/C is working at full capacity and optimal efficiency, which can help it remove humidity more effectively.
Have an HVAC pro assess the cooling system — An experienced technician can determine if your cooling equipment is sized correctly for your home and whether the ductwork is in good shape. These two factors play a big role in the A/C's ability to control humidity.
Ask about adding a dehumidifier — If you want to enjoy better humidity control and lessen the workload on your air conditioner too, investigate your options for having a dehumidifier installed on the HVAC system.
For more advice about improving the "feels like" temperature in your Fort Wayne home, contact us at Hartman Brothers Heating & Air Conditioning.
Our goal is to help educate our customers in New Haven, Indiana and surrounding Fort Wayne area about energy and home comfort issues (specific to HVAC systems). For more information about the "feels like" temperature and other HVAC topics, download our free Home Comfort Guide or call us at 260-376-2961.
Credit/Copyright Attribution: "Oakozhan/Shutterstock"