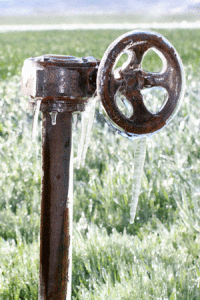 The cold winter temperatures can make the water inside your pipes freeze. Frozen pipes can cause property damage that will require costly repairs. Let's take a look at how pipes freeze and the precautions you can take to keep them from freezing.
Why Pipes Freeze
Pipes freeze when they are exposed to cold temperatures for an extended period of time. The water within them gets cold to the point that it solidifies. The process usually takes time because a significant amount of energy is required to change the temperature of water. However, the water can freeze in just a few minutes in extremely cold temperatures.
Effects of Frozen Pipes
When water freezes, it expands. It increases in length along the pipe and exerts pressure on it. When the pressure is too high, the pipe will burst. When the pipe thaws, water will start leaking from the pipe. Uncontrolled water leakage can cause significant damage to your property in a matter of minutes.
Precautions to Take
You can prevent your pipes from freezing by doing the following:
Insulate accessible pipes with foam wrapping.
Open cabinet doors to allow your home's heat to reach exposed pipes. Consider placing an electric heater in front of your cabinets to provide more heat.
Seal your basement and crawl space tightly to prevent heated air from escaping and cold air from coming into your home. Insulate your basement walls and repair any broken windows.
Seal air leaks in your home through caulking and weatherstripping to improve your home's energy efficiency.
Unhook all garden hoses attached to your outdoor faucets and store them indoors.
When it's extremely cold outside, leave at least one tap open overnight to provide some pressure release. If your home has two or more stories, leave another tap upstairs open.
If you have to leave your home, shut off the main water valves to limit any potential damage.
Remember, early preparation is the key to preventing your pipes from freezing. For more information on preventing frozen pipes, contact us at Hartman Brothers Heating & Air Conditioning. We serve the Fort Wayne area.
Our goal is to help educate our customers in New Haven, Indiana and surrounding Fort Wayne area about energy and home comfort issues (specific to HVAC systems). For more information about preventing frozen pipes and other HVAC topics, download our free Home Comfort Guide or call us at 260-376-2961.
Credit/Copyright Attribution: "JL Creative Captures/Shutterstock"