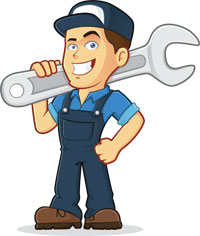 With home heating season just around the corner here in the Fort Wayne area, now's the time to start thinking about your yearly furnace tune-up. Whether your home has an oil-burning furnace or more likely, one fueled by natural gas, scheduling a yearly furnace tune-up with a licensed professional so your furnace can be cleaned, inspected and adjusted will ensure its safe and efficient operation.
Failure to have your furnace regularly maintained in this way will result in it running inefficiently, costing you in both higher energy use and equipment that wears out prematurely. It can also pose health risks in the event that a dangerous carbon monoxide leak has developed.
Since your furnace probably isn't used during summer and early fall, this is the preferred time to have your yearly furnace tune-up done. Waiting until heating season has started or letting things go until you actually suffer a furnace breakdown are definitely not recommended courses of action. Whether you have an ongoing preventative maintenance agreement with your HVAC service company or must call to schedule an appointment, don't let the tune-up be put off until autumn's chill starts making furnace use necessary.
According to the U.S. EPA, homeowners whose systems cool their homes in summer and warm them in winter require annual maintenance consisting of two service calls per year – one in spring for the A/C and one in fall for the furnace. A heat pump that provides double duty should receive semi-annual maintenance for each function. In between tune-ups, your most important role in maintaining your system is to make sure the air filters are regularly checked and changed or cleaned when dirty. In a climate like ours here in Indiana, where heating and cooling bills typically account for more than half of our annual home energy bills, controlling these costs with a tuned, efficient HVAC system just makes sense.
Serving our Fort Wayne-area customers since the early 1960s, Hartman Brothers Heating & Air Conditioning provides expert sales, installation and maintenance of every aspect of indoor air comfort and air quality. Contact us to schedule your yearly furnace tune-up or with any questions or concerns regarding your home's indoor air comfort/quality.
Our goal is to help educate our customers in New Haven, Indiana and surrounding Fort Wayne area about energy and home comfort issues (specific to HVAC systems). For more information about furnace tuneups and other HVAC topics, download our free Home Comfort Resource guide.
Credit/Copyright Attribution: "sundatoon/Shutterstock"