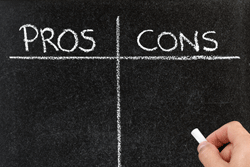 If your old furnace has finally given out or you're planning on building a home, you may find yourself wading into the debate over natural gas vs. oil furnaces. This debate has been raging for as long as people have had easy access to both fuels and it's unlikely to be resolved any time soon.
So how do you decide which heating fuel would best meet your home-heating needs. You start by looking at the pros and cons of each type.
Natural Gas Heating
Natural gas is a viable option for anyone who lives near a gas line. It's a safe and energy-efficient heating option.
Pros
Cheaper – while oil prices tend to fluctuate from year to year, natural gas prices are more stable and less likely to spike during a harsh winter. Natural gas is especially cheap nowadays as a result of new technologies for drilling into deep-shale formations that were previously inaccessible.
Cleaner – natural gas burns cleaner than oil, with less carbon monoxide and other emissions.
Space saving – the furnaces themselves are smaller and they do not require an large and unsightly tank.
Cons
Drilling and hydraulic fracturing (tracking) – there is ample debate as to the environmental consequences of new drilling techniques, though the flip side of the coin is that, as mentioned, it means natural gas prices are much lower than they've been in years. In any event, fracking is increasingly being used in oil drilling, as well.
Original costs – natural gas furnaces are usually more expensive to purchase and install, and you may have to run a gas line into your home at your expense.
Oil Heating
Oil can be used anywhere a fuel truck can get to. It's also a safe and energy efficient heating option.
Pros
Cheaper start up costs – even if you have to have a tank installed, you will pay less to purchase and install an oil burning furnace.
More heat per BTU – this means less fuel consumption.
Cons
Higher monthly costs – oil prices are on the rise and are unlikely to fall anytime soon. The cost per million BTUs is more than double what it is for natural gas.
Larger carbon footprint – burning fuel oil produces more greenhouse gases.
For more information about the differences between natural gas vs. oil furnaces and which would best fit your needs, please contact us at Hartman Brothers Heating and Air Conditioning. We've been meeting the HVAC needs of homeowners in the Fort Wayne area since 1963.
Our goal is to help educate our customers in New Haven, Indiana and surrounding Fort Wayne area about energy and home comfort issues (specific to HVAC systems).  For more information, download our free Home Comfort Resource guide.
Image courtesy of Shutterstock