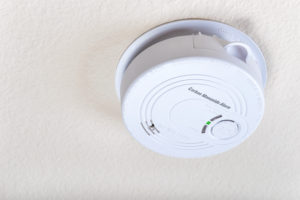 Now that another heating season is approaching and your home will soon be closed up against the cold, carbon monoxide (CO) exposure is a serious threat that you shouldn't ignore. Having your furnace inspected and tuned up by your HVAC technician can help reduce your risk of exposure, but you also need to check every carbon monoxide detector in your home.
Why It's Vital to Check Your Carbon Monoxide Detectors
Every fuel-burning device in your home, including the gas water heater, range and furnace, can emit carbon monoxide gas if combustion is incomplete. Low amounts of CO in the air make a body sick, but higher amounts can quickly cause death. Since CO gas has no odor, taste or color, you won't know if it's present in your indoor air unless your detectors are working properly and sound the alarm.
Tips for Maintaining the CO Detectors in Your Home
For any brand-specific instructions, it's best to consult the owner's manual for each of your detection devices. The following maintenance tips can also help you stay protected against CO poisoning:
To make sure each detector is functioning, hold the "test" button down until there's a beep. If a device doesn't beep, replace its batteries and test it again. If there's still no sound, put it aside for replacement.
Make it a habit to change the batteries in all of the detectors in your home every six months. It's easy to remember if you take care of it when you change your clocks to adjust for daylight saving time.
CO detectors start losing the ability to sense carbon monoxide after about five years, so plan to buy new devices at that time. Some newer models have a replacement alert that reminds you when it's due.
If you'd rather have hard-wired or plug-in detectors, make sure the ones you buy have battery backup so you'll be alerted to dangerous CO levels even when a power outage occurs.
Contact us today at Hartman Brothers Heating & Air Conditioning to learn more about the importance of checking the carbon monoxide detectors in your Fort Wayne home.
Our goal is to help educate our customers in New Haven, Indiana and surrounding Fort Wayne area about energy and home comfort issues (specific to HVAC systems). For more information about carbon monoxide detectors and other HVAC topics, download our free Home Comfort Guide or call us at 260-376-2961.
Credit/Copyright Attribution: "leena-robinson/Shutterstock"