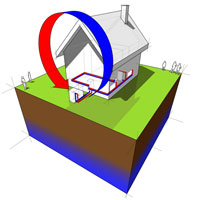 Are you getting the most out of your heat pump? If you haven't scheduled preventative maintenance yet this year, the answer to this question is probably no. Maintenance keeps your heat pump in prime condition by ensuring optimal performance in a comfortable home. Consider the various ways you can take care of your heat pump throughout the season and why a professional tune-up is so important.
Maintenance Tasks You Can Do Yourself
Proper maintenance can make the difference between a neglected system that works 10 to 25 percent below its potential and a well-maintained unit that functions at its peak. Start by completing these tasks between professional visits:
Clean or change your filter monthly: A clean filter ensures proper airflow through your system, increasing performance and preventing additional strain on your heat pump. Check your filter monthly and change or clean it when it appears dirty.
Hose down the outdoor unit: Your condenser can collect dirt and debris that reduces airflow, negatively impacting performance. Every so often, spray your unit with a low-pressure water hose to dislodge any debris stuck there. Keep vegetation trimmed back as well.
Keep air registers clear: Supply and return registers shouldn't be blocked by furniture, rugs or curtains. Make sure at least 80 percent of your home's registers are open to keep airflow balanced. Also, vacuum your air registers regularly to remove dust and cobwebs.
Professional Heat Pump Maintenance
Formal tune-ups go beyond the tasks you can complete yourself. A pro can make the job quick and easy. Expect the following activities to take place during a preventative maintenance visit:
Inspection of your blower motor, ductwork and indoor evaporator coil for dirt and debris
Taking airflow measurements
Checking for refrigerant leaks and verifying proper charge
Cleaning and tightening electrical terminals, and applying nonconductive coating if needed
Lubricating moving parts
Checking belt tightness and wear
Inspecting your thermostat to ensure proper lockout
To learn more about maintaining your heat pump, or to schedule an appointment, please contact Hartman Brothers Heating & Air Conditioning, Inc. We've been serving Fort Wayne since 1963.
Our goal is to help educate our customers in New Haven, Indiana and surrounding Fort Wayne area about energy and home comfort issues (specific to HVAC systems). For more information about heat pumps and other HVAC topics, download our free Home Comfort Resource guide.
Credit/Copyright Attribution: "Slavo-Valigursky/Shutterstock"