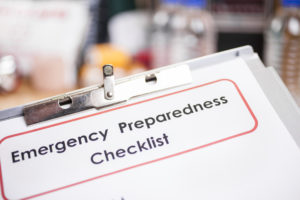 Home safety is a relevant topic for every homeowner, and it is essential that you take HVAC emergency preparedness seriously in the event of a violent storm or other emergency. To give you a head start, here are some quick tips that will help keep your home and loved ones safe and sound:
Make an Emergency Plan
In the event of an emergency, it's important that you and your family have a plan in place to ensure everyone's safety. Include details such as the responsibilities for each household member and where you should meet in the home. If you have kids, this step is even more important because having a plan will keep them calm.
Shut Off Gas and Power
During a severe storm, both gas and electricity can become dangerous elements. If you don't want to be in the dark, that's perfectly okay. Just shut down any unnecessary breakers to reduce the effects of a potential power surge and stay in a central location.
Shut Off Water
Water damage is a common problem in an emergency situation, and can be especially troublesome due to damaged or broken pipes. To be safe, shut off the main water valve leading to your house at the first sign of trouble.
Have a HVAC Technician Ready
After an emergency, there's a good chance that you'll need to enlist the help of an HVAC technician to fix any problems with electricity, burst pipes, and other such issues. The number to a reputable contractor should be readily accessible so that you can call a professional right away.
Board Up Your Windows
In a severe storm, your windows are susceptible to breakage due to debris being blown around by strong winds. Boarding up your windows, especially in rooms where you and family collect to wait out the storm, will prevent possible injury.
HVAC emergency preparedness is an important aspect of home ownership. To learn more home safety tips or any other home comfort concerns, please contact the friendly professionals at Hartman Brothers Heating & Air Conditioning. We've been servicing the needs of New Haven and the surrounding areas since 1963.