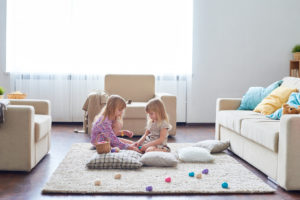 Egg hunts are an Easter tradition and a fun-filled occasion for adults and children alike. There's a lot of planning and prep work involved when you're hosting a hunt – like filling plastic eggs with goodies, picking the ideal hiding places, and readying snacks and beverages for guests of all ages. To ensure one and all enjoy a memorable, safe Easter egg hunt this year, be sure to take these safety-wise steps ahead of time:
Choose Safe Treats for the Hunt
Using plastic eggs and filling them with an assortment of age-appropriate items is a good way to alleviate safety concerns about real eggs and dyes. Small items pose a choking hazard for young children and toddlers who attend, so avoid fillings like jelly beans, hard, round or foil-covered candies, tiny trinkets, or toys that can break into small parts.
Plan a Safe Hunt Area
Designate a hunt area and make sure it's free from potential hazards. Outdoors, put away extension cords, gardening tools, hoses, sprays and chemicals, and create boundaries so youngsters can't access your outdoor HVAC unit. Indoors, block off areas you don't want children to enter, put away breakables that may cause injuries, and cover hazards like electrical outlets.
Protect Your Air System
While keeping the children safe from harm is a top priority, you also want to make sure your HVAC system components don't suffer any ill effects. To prevent damaging airflow restrictions and overtaxing the system:
Make sure your registers are all open and unobstructed
Don't shut doors to some rooms
Install a fresh air filter
Set your thermostat a few degrees higher than usual
Switch on the ceiling fans to create cooling air movement in rooms you'll be using
Don't forget to readjust the thermostat setting and shut the fans off later on
After the event, remove any register covers children had access to and check for candy or small toys that were dropped down the air ducts
For more advice about planning a safe Easter egg hunt and protecting your Fort Wayne home's HVAC system, contact us at Hartman Brothers Heating & Air Conditioning.