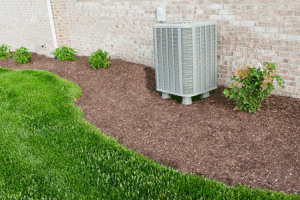 While you probably take it for granted, there's no denying the outdoor HVAC unit of your central air conditioner or heat pump isn't exactly winning you any landscaping awards. It does serve an essential function, though, keeping your family cool throughout the summer, and if it's a heat pump, warm in the winter, too. However, wouldn't it be nice to hide or otherwise camouflage your outdoor HVAC unit? This also would serve the purpose of eliminating a temptation for potential thieves.
Strategies for Hiding Your Outdoor HVAC Unit
Start with vegetation, either shrubs, ornamental grasses, or other options. Ornamental grasses don't get much higher than 2 or 3 feet, which is sufficiently high to hide an outdoor A/C condenser/compressor. When it comes to shrubs, it's your choice; just make sure the ones you pick don't shed leaves in the winter.
Don't use fitted cloth or vinyl coverings to hide the outside unit, unless the cover has been specially designed for this purpose. This means it has small openings to allow air to circulate in the equipment. This will prevent trapped moisture from corroding or rusting sensitive components.
An attractive fence is another option for hiding the outdoor HVAC unit. Just make sure it has at least 3 feet of clearance from the equipment; otherwise, airflow can be restricted, which will negatively affect performance and efficiency. That clearance also will allow for easy access during service or maintenance.
When watering shrubs, grass, or flowers near the outdoor unit, try to avoid getting too much water into the equipment. Try using a targeted irrigation or watering system.
If building a fence, consider making it a bit larger than necessary to surround the outside A/C unit. This will create storage space for toys, garbage cans, tools, and other objects that stay outside.
For more advice on the best way to hide your outdoor HVAC unit, please contact us at Hartman Brothers Heating & Air Conditioning. We provide superior HVAC services in the Fort Wayne area.
Our goal is to help educate our customers in New Haven, Indiana and surrounding Fort Wayne area about energy and home comfort issues (specific to HVAC systems). 
Credit/Copyright Attribution: "Ozgur Coskun/Shutterstock"