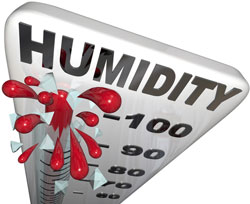 Maintaining a balanced humidity level in your home is important for keeping your space healthy and your indoor air quality high. When you've got too much humidity in your home, you could be providing a breeding ground for bacteria, mold and mildew. However, if you don't have enough, you'll see the effects in excess dust, throat and lung irritation and a worse-than-usual flu season. Having a professional perform a humidity test can help you understand how to balance humidity in your home.
While there are a number of ways you can observe humidity levels in your home – watching for condensation on the walls or noting the increase in static electricity during the dryer months – most of these techniques are imprecise. Having a professional test your home with a hygrometer will give you a more accurate reading and tell you where to focus your efforts.
A hygrometer will give your HVAC contractor information about the relative humidity inside your home. Relative humidity is a measure of how much water vapor is in your air, compared to how much the air could hold at full saturation. Warm air can hold more water than cool air, so a relative humidity of 50 percent in the summer actually means more moisture than 50 percent during the winter. Nevertheless, your ideal relative humidity should remain between 35 percent and 45 percent year-round.
If you have problems with low humidity, a whole-house humidifier can use the air circulation of your central HVAC system to introduce healthy water vapor into your home. If you experience high humidity, a dehumidifier can ease problems around your home. If you experience both forms of unbalanced humidity throughout the course of the year, you may want to have both machines installed.
To learn more about balancing the humidity in your Fort Worth home, or to schedule a humidity test or consultation, contact Hartman Brothers Heating & Air Conditioning, Inc. today!
Our goal is to help educate our customers in New Haven, Indiana and surrounding Fort Wayne area about energy and home comfort issues (specific to HVAC systems). For more information about humidity tests and other HVAC topics, download our free Home Comfort Resource guide.
Credit/Copyright Attribution: "iQoncept/Shutterstock"