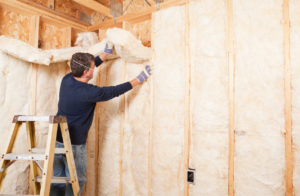 Besides the mechanical condition of the unit itself, nothing affects HVAC efficiency more than the insulation levels in your home's envelope and ductwork. Without enough insulation, heat can move quickly indoors or out, which will cost you in higher energy bills year-round.
Where Insulation Counts
Any part of your home's structure that contacts outdoor air needs to have insulation. The attic and walls are the typical locations builders install insulation. If the ductwork runs through spaces that aren't cooled or heated, the HVAC contractor who installed the system should have wrapped the ducts with insulation blankets.
How to Read Insulation Values
All insulation is rated for the amount of time it resists heat transfer. The R stands for resistance and the number following it indicates the hours it will resist temperature change. Most insulation utilizes the air trapped inside it to keep heat from moving in or out.
How Much to Have
The amount of insulation you need depends on the climate and the amount of space you have for it. The U.S. Department of Energy recommends that you have 16 inches of fiberglass batts or blown-in insulation in the attic to improve HVAC efficiency. What kind and how much you need in the walls depend on the how your home was built. If it's a frame structure, you'll be able to use between R-13 and R-30 batt or loose insulation.
How to Add More
Attic insulation. If you're not inclined to work in the attic, hire a professional to increase the amount. You can use batt insulation or loose fiberglass or cellulose fill.
Wall insulation. Most people use an insulation pro to install more in the walls when adding blown-in since it uses specialized equipment and it's a messy job.
Ductwork insulation. An HVAC contractor will be able to wrap the existing ducts with blanket insulation after sealing any existing leaks
Insulation plays a big role in HVAC efficiency and it's a cost-effective and durable solution for high energy bills. For more information, contact Hartman Brothers Heating & Air Conditioning, providing HVAC services for Fort Wayne homeowners.
Our goal is to help educate our customers in New Haven, Indiana and surrounding Fort Wayne area about energy and home comfort issues (specific to HVAC systems). For more information about other HVAC topics, download our free Home Comfort Guide or call us at 260-376-2961.