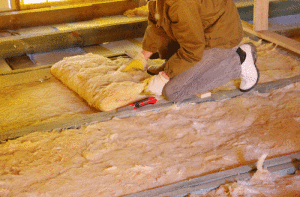 The importance of attic insulation for maintaining a comfortable indoor temperature throughout Fort Wayne's icy winters and unpredictable summers cannot be overstated. Here's why attic insulation is such a necessity.
Know Your Number
In winter, warmth rising toward your ceiling will quickly escape into your attic and out your roof if there's too little insulation in your attic. What's more, the condensation caused by this warm air damages insulation and encourages mold growth. In summer, attic temperatures can reach well over 100 degrees and that built up heat will radiate into your rooms if the attic lacks insulation.
Good attic insulation helps keep your home at a stable temperature so your furnace and A/C don't have to work as hard, which saves energy and lowers your heating and cooling bills.
Your attic should have at least an R-49 layer of insulation, which is around 15 inches of fiberglass batts. If you already have 3 or 4 inches, install an additional R-38 to R-49 layer. For the greatest energy efficiency, aim for an R-60 layer.
Optimize What You Have
If you need more insulation, you have several types to choose from:
Batt form — Sold in long sheets that fit between standard floor and wall joints, batts are easy for you to lay into place. Fiberglass, cellulose, mineral wool, cotton, and sheep's wool are all among the materials used to make batts.
Loose-fill (blown-in) — The small chunks of material that make up this insulation fill in little crevices that batts miss, making loose-fill more efficient overall. Installation, however, requires a blower machine. Fiberglass and cellulose are the most common loose-fill materials.
Rigid foam boards — These stiff panels, typically made of polyurethane, are highly efficient and moisture resistant, and require no special equipment to install. The drawback is their higher cost compared to batts and loose-fill insulation.
Before you add insulation, use weatherstripping, caulk, and metal flashing as appropriate to seal air leaks in the attic.
For guidance on choosing attic insulation or help installing it, contact us at Hartman Brothers Heating & Air Conditioning in the Fort Wayne area.
Our goal is to help educate our customers in New Haven, Indiana and surrounding Fort Wayne area about energy and home comfort issues (specific to HVAC systems). For more information about attic insulation and other HVAC topics, download our free Home Comfort Guide or call us at 260-376-2961.
Credit/Copyright Attribution: "irin k/Shutterstock"