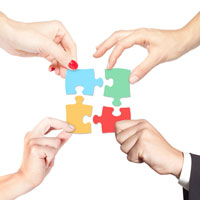 The air conditioning, heating and ventilation systems in your home must work together to provide the best total performance. It's helpful to understand how the different components of  your HVAC system interact with one another to keep the temperature comfortable despite outdoor weather conditions.
Climate control – Your heating and cooling equipment usually share the same thermostat, ductwork and registers. Your central air likely also uses your furnace blower to distribute air through the ducts. So proper maintenance of these shared components will add to both heating and cooling efficiency and performance.
Ventilation – Your ducts, registers and vents are the main ventilating components of your home's HVAC system. However, your home's windows, during mild weather, also provide ample ventilation. If your home is vulnerable to stale or dirty air, you may want to get an additional ventilation system to accomplish a consistent exchange of sale and fresh air. The same ductwork is used to carry warm or cool air throughout your home.
Right size for the job – If your cooling or heating equipment is oversized or undersized, it won't do the job you expect. An oversized system tends to short cycle, wasting energy and stressing parts while not providing balanced cooling or heating. An undersized system will struggle during the hottest or coldest days. A professional should evaluate your indoor space if you are installing a new HVAC system to ensure the system is the correct size.
Proper Maintenance – Regular maintenance has become even more important for modern HVAC systems because of the year-round operation of most components.
As a homeowner, you can take several steps to keep your cooling and heating system running smoothly all year long. Changing the air filter regularly is easy and protects your equipment and indoor air. Likewise, checking your thermostat to ensure that it's set correctly and adjusting the programs correctly if you have a programmable thermostat will improve both the energy efficiency and performance of your system.
Please contact us at Hartman Brothers Heating and Air Conditioning Co. if you have any concerns about your home's HVAC system. We have been proudly serving the Fort Wayne area since 1963.
Our goal is to help educate our customers in New Haven, Indiana and surrounding Fort Wayne area about energy and home comfort issues (specific to HVAC systems). For more information about HVAC systems and other HVAC topics, download our free Home Comfort Resource guide.
Credit/Copyright Attribution: "Ioannis Pantzi/Shutterstock"