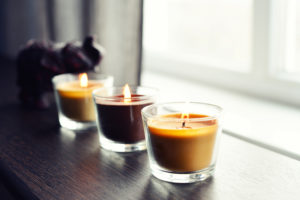 You may think all candles are created equally, but some candles should probably not be burned inside the home at all, as they aggravate respiratory problems and contribute to allergic reactions. Fortunately, there are candles that are not that harmful to your indoor air quality, and the good news is you can even make them yourself.
So why not have a go at a little DIY candlemaking now that it's time to put out your fall candles?
What's Wrong With Paraffin?
The problem with some candles is that they are made of paraffin, which derives from petroleum. When you burn these candles in your home, you are creating soot, which is not good to breathe and which can also dirty your HVAC filter so that it needs to be changed more often.
A much better option is soy candles; beeswax is also much less harmful to your indoor air quality.
Making Scented Soy Candles
It's fairly easy to make scented soy candles. Gather these materials:
Glass jars for the candle holders
Slow cooker
1.5 cups soy wax for each candle
Tongs
Hot pads
Essential oil (try some fall scents)
Stir sticks
Virgin coconut oil
Wicks
Fill the containers with soy wax, pressing it down, then set the containers in the slow cooker. Set the control on high.
Boil water; pour it into the slow cooker halfway up the containers and let the wax melt for about 45 minutes. Add more wax as needed.
Cover the slow cooker, allowing the wax to melt another hour or so.
Remove containers with tongs when wax is melted, then set on hot pads.
Combine coconut oil and 50 drops of essential oil. Pour this mixture into the melted wax, stirring with a stick. Let the candles sit for 10 minutes. Insert a wick into each candle. Hold the top of the wick in place with a clothespin. Allow candles to cool a half an hour. When done, remove clothespin and trim the wick to a half-inch long.
For more on fall candles, contact Hartman Brothers of New Haven.