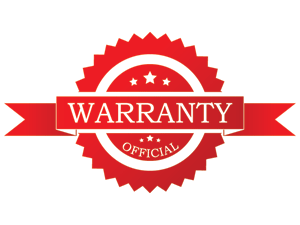 The Hartman Brothers' 10-year Installation Warranty has your back where the manufacturer's warranty leaves off. Your new HVAC equipment incorporates technology that provides a trouble-free expected service life that lasts longer than models of only a few years ago. Manufacturer warranties are also more comprehensive and longer than ever. However, the manufacturer seldom covers the labor and parts associated with installation of the equipment. And yet, competent installation is critical to receiving the energy efficiency and performance promised by the manufacturer's specs. The U.S. Department of Energy reports that improper installation can reduce equipment efficiency by as much as 30 percent. That's more than enough to cancel out the gains of upgrading to a new high-efficiency air conditioner or furnace. An HVAC contractor that stands behind his installation procedures for a full decade knows the importance of getting it right from the beginning. Here what's covered by the Hartman Brothers 10-year Installation Warranty:
The installation of all ductwork, including sheet metal straps and clamps, fasteners hangers and other ancillary duct hardware.
Plumbing for the condensate drain and the hangers and pipe fittings necessary for installation.
High-voltage electrical wires, terminal connectors, and the conduits fittings and straps to install it. Also, the high-voltage switches, boxes, disconnects and the associated fuse blocks.
Low-voltage electrical wiring and connectors, wire nuts, straps and ties.
All refrigerant piping is guaranteed to be leak-free, and all the insulation covering the refrigerant piping is guaranteed to be intact.
The equipment pad for the outdoor unit as well as other stands, jacks and vibration dampening devices necessary for proper installation and operation are covered.
Any labor costs to access underground refrigerant piping or piping located in other inaccessible locations are not covered by the warranty.
In the Fort Wayne area, Hartman Brothers Heating & Air Conditioning provides homeowners the highest standards of HVAC sales and service.  In addition to major-brand manufacturers' warranty service, we offer customers the Hartman Brothers' 10-year Installation Warranty. Call for more details today.
Our goal is to help educate our customers in New Haven, Indiana and surrounding Fort Wayne area about energy and home comfort issues (specific to HVAC systems).  For more information about our installation warranty and other HVAC topics, download our free Home Comfort Resource guide.
Image courtesy of Shutterstock