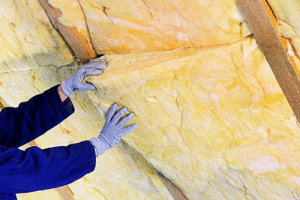 Heat movement through your home's envelope causes temperature fluctuations from room to room. Since heat energy moves from a warmer to cooler place, heat movement through the ceiling, walls and floor in places where home insulation is lacking always works against comfort and efficiency.
For example, heated indoor air naturally wants to move to colder outdoor air during the wintertime, and vice versa during the summer. Boosting home insulation is one of the most effective home efficiency upgrades you can perform to block heat movement and improve home comfort.
Attic Insulation
Fiberglass insulation is the most popular material used in U.S. homes. Fiberglass is available in rolls, batts, and loose fill. Cellulose is another popular and effective insulation material. Cellulose is made of loose fill paper pulp that is chemically treated to be resistant to fire and pests.
A third insulation option is spray-in foam. This insulation type offers higher R-value per inch than fiberglass and cellulose, and it won't shift and move like loose fill. Whichever type you choose, insulate your attic up to R-60 as suggested on the U.S. Department of Energy's website Energy.gov.
Exterior Walls
If you're designing a new home, you really have your pick of insulation materials. Insulating existing walls is a different matter. It's impractical for many homeowners to tear down drywall just to install insulation.
The better solution is to use spray-in foam. Your HVAC technician drills a few small holes in the exterior walls of your home, pump in the insulation and patches the holes. The foam insulation expands to form-fit inside every nook and cranny of walls. Exterior walls and cavities should be insulated R-15 to R-21.
Basement and Crawl Space
By insulating your basement and/or crawl spaces, you're making these areas part of the conditioned areas of your home. This helps HVAC efficiency if ducts are located in these areas. Rather than insulating the underside of the floor, use rigid foam board to insulate basement and crawl space walls.
For more details about home insulation best practices for your Fort Wayne area home, please contact Hartman Brothers Heating & Air Conditioning.
Our goal is to help educate our customers in New Haven, Indiana and surrounding Fort Wayne area about energy and home comfort issues (specific to HVAC systems). 
Credit/Copyright Attribution: "LianeM/Shutterstock"