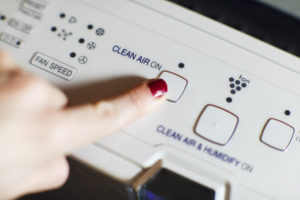 If you're like most homeowners concerned with your indoor air quality, you may well wonder if that air purifier that you had installed in your HVAC system is really doing its job.
Whether or not your air purifying equipment is working depends on the type of system you have.
What Type of Air Purifier?
Air cleaning or purifying technology comes in many forms.
One of the types that is easiest to assess as far as its effectiveness is mechanical filtration, which could just mean the air filter you have installed in your HVAC system. If you have a cheap fiberglass filter that you're changing monthly, it isn't doing much for your air, but a denser, pleated filter will do a better job of collecting airborne particulates. Most of these filters are designed to be changed after 90 days; change yours more often if you have a lot of dust in the neighborhood, a high-traffic home, or shedding pets. Some systems will have an air filter light that will tell you when the filter is no longer doing a good job and it's time for a change.
A washable, permanent filter, which is installed in your HVAC system, has a collection plate to which airborne particulates are attracted by static energy. These plates need to be cleaned every few weeks to be effective.
Another popular type of air purifying equipment is the UVGI light, or ultraviolet germicidal irradiation light. It is installed inside your HVAC system and is designed to kill living organisms such as mold, fungus and bacteria. You should check the bulb every year to make sure it's still bright, as it can't kill organisms as well when it starts to dim.
Air Monitors
Air quality monitors can help you keep an eye on particulate buildup, but are usually designed to detect limited types types of pollutants, including dust, pollen and volatile organic compounds. They also detect carbon dioxide, carbon monoxide and humidity.
To learn more about using an air purifier, contact Hartman Brothers of New Haven.
Our goal is to help educate our customers in New Haven, Indiana and surrounding Fort Wayne area about energy and home comfort issues (specific to HVAC systems). For more information about other HVAC topics, download our free Home Comfort Guide or call us at 260-376-2961.