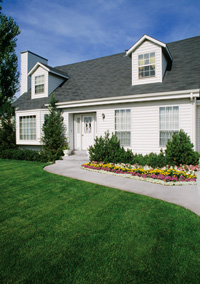 In these times of high energy costs, you want to do everything you can to make your HVAC system more effective and more efficient.  When your home's heating and cooling system is working properly, it runs less and uses less energy. One of the best, subtle ways to boost the effectiveness and efficiency of your HVAC system is through landscaping. By strategically adding some plants and trees here and there, you will both lower your energy costs and beautify your surroundings.
In northern climates, the best landscaping tip is to plant evergreen trees and all-season shrubbery on the north side of your home. These plants act as a windbreak block frosty cold northern winds before they reach your dwelling. By doing this, you will limit the wind-chill effect on your home, automatically making any HVAC system more effective and efficient.
On south- and west-facing sides of your house that receive afternoon sunshine, plant deciduous trees and shrubs so that they block the hot sun in the summer, but then allow warm sunshine through on winter afternoons. This way, your air conditioning won't have to work as hard to keep your home cool.
On that same token, just landscaping and shading the area around your central air conditioner's outside unit allows it to operate more effectively. The outside unit contains the condensing coil, which can do its work much easier if it doesn't have the hot sun beating upon it.
There is no doubt that creative landscaping can play a worthy role in lowering your overall energy usage. You can both beautify the space around your home and reduce energy costs at the same time.
For any questions about how landscaping can help your HVAC system, contact the pros at Hartman Brothers Heating & Air Conditioning. We've been proudly serving the Fort Wayne area since 1963.
Our goal is to help educate our customers in New Haven, Indiana and surrounding Fort Wayne area about energy and home comfort issues (specific to HVAC systems).  For more information about landscaping and other HVAC topics, download our free Home Comfort Resource guide.
Image courtesy of Shutterstock