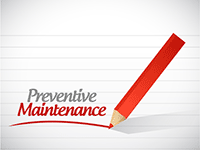 Before the cooling season gets into full swing, schedule preventative HVAC maintenance to lower your energy bills and reduce the risk of an expensive repair. All HVAC equipment needs annual service from a licensed HVAC professional to keep it running at its peak performance for as long as possible.
Why It's Required
As HVAC equipment runs, its moving parts vibrate and can loosen. Some motors require periodic lubrication and the belts can loosen and wear.
When dust collects inside the blower compartment, it acts as an insulation barrier on the evaporator coil, the motor and the electronic components. This prevents the exchange of heat needed to cool your home properly.
Outdoors, dirt can build up on the condenser coil and fan blades.
The refrigerant lines and coils can develop leaks.
Ductwork can loosen or leak.
What's Involved
When a professional goes through your system, he or she will clean and adjust all its parts, lubricating the motors and measuring the electrical flow through its components. They'll also check the refrigerant level and seal any leaks before adding more, and they'll test the airflow and examine the ductwork.
How Preventative Maintenance Benefits the System
Since preventative maintenance involves a thorough cleaning of the system, it resolves the issues associated with a dirty system. These include:
Higher energy consumption.
Greater risk of premature part failure.
Inadequate cooling.
Frost formation on the evaporator coil.
Flooding caused by clogs in the condensate line.
Overheated electrical components.
While dirt is responsible for many of the problems associated with cooling system performance, it's also important to stay on top of the refrigerant level, something that only HVAC professionals can measure and replace. Running your system with inadequate refrigerant can cause the evaporator coil to freeze.
Besides reducing any cooling, a frozen coil can burn out a compressor, the system's most expensive part. Overheated electrical parts can start a fire and a flooded blower compartment can cause serious water damage to the equipment and your home.
For more information about preventative HVAC maintenance, contact Hartman Brothers Heating & Air Conditioning. We've provided exceptional HVAC services for Fort Wayne homeowners since 1963.
Our goal is to help educate our customers in New Haven, Indiana and surrounding Fort Wayne area about energy and home comfort issues (specific to HVAC systems). For more information about preventative HVAC maintenance and other HVAC topics, download our free Home Comfort Resource guide.
Credit/Copyright Attribution: "alexmillos/Shutterstock"