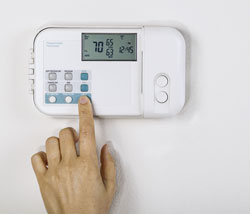 Summer is poised to take over in Indiana before you know it, with hot temperatures and high humidity for days and weeks at a time. If you haven't already done it, now's a good time to check your air conditioning system to make sure it's working properly. If you're not getting the air conditioning performance you would like, the problem may be in your programmable thermostat. Fortunately, troubleshooting a programmable thermostat is a fairly easy process.
With just a few simple steps, you can determine whether the issue exists in your thermostat or in your central cooling system. With that knowledge in hand, you can decide what action needs to be taken to rectify the problem.
The first step in troubleshooting a programmable thermostat is to check your thermostat's batteries. This may seem like a simple action, but many homeowners assume that they have a serious issue when, in fact, they simply have dead batteries in their thermostat. Some programmable thermostats will indicate that the batteries are running low on power. However, many don't. If you replace batteries and that still doesn't fix the issue, move on to more advanced actions.
Your thermostat may have a bad fuse. After turning off power to the device, open the thermostat's cover and pull out the fuse's filament. Take the filament to the local hardware store and pick up a replacement. That may resolve the issue. If not, there are other steps you can take.
You can also check whether the thermostat works for the heating system. If you switch the thermostat to heat and it works, the issue lies with your air conditioning system. If the thermostat still doesn't work, you likely need a new thermostat. You can pick up a new programmable thermostat at any local hardware store. However, some require professional installation. When in doubt, hire a professional to make sure the thermostat is installed correctly and that you know how to use it.
If the issue lies in the air conditioning system, you'll need professional assistance to determine whether it can be repaired or whether you need a new system. At Hartman Brothers Heating and Air Conditioning, Inc., we've been helping Fort Wayne homeowners with all of their heating and air conditioning needs since 1963. Please contact us today to learn how we can help you get your air conditioner ready for summer.
Our goal is to help educate our customers in New Haven, Indiana and surrounding Fort Wayne area about energy and home comfort issues (specific to HVAC systems).  For more information about programmable thermostats and other HVAC topics, download our free Home Comfort Resource guide.
Image courtesy of Shutterstock