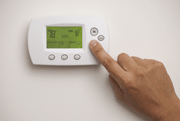 Thermostats have always been a smart choice. They're money and energy savers – even the old manual units, if used correctly to set back temps when your family leaves the house or goes to sleep. Digital programmable units are more sophisticated, allowing Ft. Wayne-area homeowners to program a schedule and temperature for different parts of day and days of the week. Adjustments are then automatic.
As time moves on, programmable units themselves are getting smarter. The latest interactive technology enables new programmable thermostats to increase energy savings and convenience even further, without any compromise in comfort. Even with higher up-front costs for full-featured units (and more-complex installation), your long-term savings can be significant. Some of the smart features now available include:
Questions about programmable thermostats? Contact Hartman Brothers Heating & Air Conditioning. We're happy to explain your options. Visit our website for details or just give us a call.
Our goal is to help educate our customers about energy and home comfort issues (specific to HVAC systems).  For more information about programmable thermostats and other HVAC topics, download our free Home Comfort Resource guide.
Hartman Brothers services New Haven, IN and the surrounding Fort Wayne area. Visit our website to see our special offers and get started today!