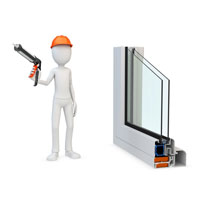 With summer behind us and fall already heading toward winter, now's the time to start completing fall maintenance tasks in your Fort Wayne area home. One of the most important tasks is sealing air leaks while preparing for winter.
With last year's frigid, long winter still a crisp memory, it's especially important to be prepared for the worst, which is why sealing air leaks in your home and HVAC system has taken on such an important spot on your fall maintenance to-do list. Before you seal air leaks in your home, you have to find them.
Finding Air Leaks:
Visually assess the entire house for cracks and holes. Do this both from inside and outside.
Inspect the ceiling below the attic and the floor above the basement for any openings. Also look for any water damage, where the surface has become weak and will soon become a gap in the air barrier. Walk the inside perimeter of your home with a lighted incense stick, moving it past likely spots for air leaks, including window frames, plumbing and wiring penetrations, and places where building materials meet. When the smoke wavers, you've found an air leak.
Hand test around windows and doors.
From the inside of the house, with the palm of your hand, follow the joint between the window or door and the wall. You are feeling for a difference in air temperature, so make sure you go all the way around the joint.
Sealing Air Leaks:
The majority of air leaks can be fixed with supplies from your local hardware store. Common tools for such fall maintenance tasks include:
Weatherstripping
Caulk
Foam sealant
Silicon sealant
These are simple and efficient fixes for sealing air leaks that you can do on your own with a little time and elbow-grease. If, after going through these steps, you still feel there's an issue, schedule a professional inspection or energy audit.
For more information about sealing air leaks and otherwise weatherizing your Fort Wayne area home, please contact us at Hartman Brothers Heating and Air Conditioning.
Our goal is to help educate our customers in New Haven, Indiana and surrounding Fort Wayne area about energy and home comfort issues (specific to HVAC systems). For more information about sealing air leaks and other HVAC topics, download our free Home Comfort Resource guide.
Credit/Copyright Attribution: "dny3d/Shutterstock"