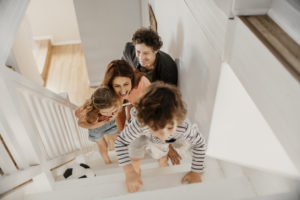 If you're experiencing uneven cooling in your two-story home, it affects both your family's comfort and your related energy bills.
The fact that heat rises is the main reason why it's harder to cool your second-story rooms, but these other factors may be contributing to the problem too:
Aging or poorly-sized equipment.
Air conditioner or heat pump efficiency often declines with age, and over- or under-sized equipment may short cycle ineffectively, or simply doesn't have the capacity to cool the space adequately.
Heat gains and losses.
Air leaks in the ductwork, up into the attic or around doors and windows can rob you of HVAC output. Insufficient insulation in the attic can increase your equipment's workload and make cooling less effective.
Unbalanced HVAC airflow.
Inadequate duct sizing, poor placement of registers, or insufficient return airflow can cause balance issues with the HVAC system that make it harder to cool your home's upper level.
Tips for Improved Cooling Upstairs
An experienced HVAC pro is your best source of advice on effective ways to make cooling even in all areas of your home, and many fixes provide the added bonus of energy savings. Some common recommendations include:
Replacing outdated cooling equipment. Upgrading equipment that's over 10 years old or has a low SEER rating to a new model that features advanced variable-speed technology can help boost comfort throughout your entire home.
Addressing ductwork deficiencies. Replacing a poorly-designed duct system, getting damaged/leaking existing ductwork repaired/sealed and having the ducts wrapped in insulation can help prevent waste so there's more cool air sent to every room.
Sealing and insulating. You can reduce conditioned air losses by sealing gaps and leaks through the exterior envelope and between the attic/living areas. To limit heat gain, make sure there's sufficient insulation installed between the attic floor joists.
Upgrading to zoned cooling. Getting your HVAC zoned into two or more distinct areas with independent temperature control can help eliminate inconsistencies between levels and give you better summertime humidity control too.
For help fixing uneven cooling in your Fort Wayne home, contact us at Hartman Brothers Heating & Air Conditioning.
Our goal is to help educate our customers in New Haven, Indiana and surrounding Fort Wayne area about energy and home comfort issues (specific to HVAC systems). For more information about other HVAC topics, download our free Home Comfort Guide or call us at 260-376-2961.