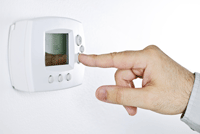 Homeowners who are looking for ways to save energy and money – which describes nearly anyone who owns a home – look no further. With the use of smart thermostats, it's possible to get your energy usage under control once and for all. If these devices are used wisely, you can say goodbye to huge heating and cooling bills.
The power of programmable thermostats
Smart thermostats are an improved version of the programmable ones that have been available for quite some time. Standard programmable thermostats give you the ability to set daily and weekly schedules for when your HVAC system turns on and off. This provides you with better control over the days and times that your unit is operating. The only thing more advanced than these devices are the newer "smart" programmable thermostats that add even more benefits.
Four added benefits of smart thermostats
When the smart thermostat was designed, convenience and innovation were definitely part of the plan. Just check out these four new features:
Internet connectivity – No need to fret about being late arriving at home and wasting energy. Just access your thermostat's settings via an Internet connection and make whatever changes are necessary.
Smartphone app – Not to be left behind the smartphone app phenomenon, certain models of smart thermostats allow you to access the system directly from your phone. Simply download the app, and you're good to go.
Energy usage chart – Evaluating your energy usage over a period of time is one of the best ways to change your habits and help you save money. The easy-to-read chart provided by a smart thermostat will allow you to do exactly that.
Learning capability – If you've ever wanted a thermostat that could adjust its settings based on your temperature habits, that's exactly what some of these new devices can do. As they "learn" your preferences, they adapt the programming.
If you would like further assistance with smart thermostats, or for any questions regarding home comfort, please contact the experts at Hartman Heating & Air Conditioning, Inc. We have been serving the HVAC needs of Fort Wayne and the surrounding area since 1963.
Our goal is to help educate our customers in New Haven, Indiana and surrounding Fort Wayne area about energy and home comfort issues (specific to HVAC systems).  For more information about Smart Thermostats and other HVAC topics, download our free Home Comfort Resource guide.
Image courtesy of Shutterstock