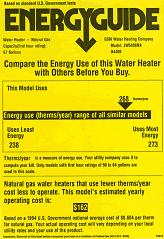 Buying new HVAC equipment, appliances, electronic devices and other products can be an expensive undertaking. As you are comparing and selecting possible purchases, you can find valuable guidance on the product's EnergyGuide label. This label will tell you about the item's estimated energy usage and give you a good baseline for calculating long-term costs of operation and potential savings.
The EnergyGuide label is required by the U.S. Federal Trade Commission for many products related to home energy use. This easily identified yellow label must be displayed on particular types of large appliances and HVAC equipment. It provides useful information about the product and gives estimates of energy use and cost. EnergyGuide labels can be found on refrigerators, freezers, clothes washers, dishwashers, water heaters, air conditioners (window and central), furnaces, boilers, heat pumps and pool heaters, among other items.
The basic components of the EnergyGuide label are:
Basic information: Manufacturer name, model number, and equipment size or capacity.
Key features list: A description of some of the more notable or desirable capabilities of the unit.
Estimated yearly operating cost: An estimate of how much it will cost to run the item under normal conditions over the course of a year. This estimate is calculated from the particular model's energy use and the U.S. national average cost of electricity.
Operating cost range: Upper and lower ranges of operating costs for similar equipment. These estimates help consumers make accurate comparisons with other models.
Estimated yearly electricity use: An estimate of the kilowatt hours of electricity the device will use over a year. Consumers narrow potential operating cost estimates further by multiplying this number by their actual local electricity rates.
Energy Star Label: If the equipment has been Energy Star certified, the Energy Star symbol will appear on the EnergyGuide label.
There will be some variances among EnergyGuide labels for different appliances, but all will give you important data for making an informed buying decision.
Hartman Brothers Heating & Air Conditioning has served HVAC customers in the Fort Wayne area for almost half a century. Contact us todayfor more information on reading and interpreting EnergyGuide labels and for help selecting the best HVAC equipment for your particular needs.
Our goal is to help educate our customers about energy and home comfort issues (specific to HVAC systems).  For more information about the EnergyGuide label and other HVAC topics, download our free Home Comfort Resource guide.
Hartman Brothers services New Haven, IN and the surrounding Fort Wayne area. Visit our website to see our special offers and get started today!