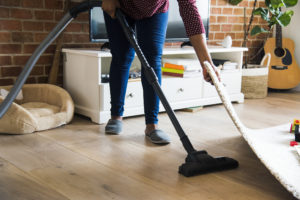 Now that the weather is warming up, it's time to put together a spring cleaning checklist to freshen up your home. Adding these HVAC-related tasks can boost your comfort, improve your indoor air quality, and help you save energy too:
Schedule Spring Maintenance
During a maintenance visit, your HVAC pro inspects and tunes up the entire cooling system so it runs reliably and at optimal efficiency. They'll also replace the air filter, and spring clean key HVAC components like the evaporator and condenser coils, blower assembly, and condensate drain system.
Give Ceiling Fans Some TLC
Running ceiling fans in occupied rooms in tandem with your A/C can help you save energy on home cooling. To keep dust dispersion to a minimum, wipe down the blades and fan base first. Then, make sure the blades are set to rotate counter-clockwise so they create a cooling wind chill effect.
Clean Your Air Vents
Over the winter, dust, hair, pet dander and other debris can collect in your registers and duct openings. Giving these areas a good spring cleaning will keep that debris from being recirculated with every cycle of the cooling system. Simply remove and wipe down all the grilles and register covers, then thoroughly vacuum out each duct opening.
Limit Mold Growth
A mold problem can degrade your air quality, and cleaning it up is difficult, so it's better to take proactive steps to prevent its growth instead. Scrub down your bathroom exhaust fans, then run them during every bath or shower. Stay alert to musty odors in the basement that warn of out-of-control humidity, and talk to your HVAC contractor if you're concerned that your tuned-up A/C isn't adequately dehumidifying your home.
Clean Your Indoor Air
Cleaning your indoor air supply is recommended if your home is extra dusty, or anyone in the family suffers from allergies or breathing problems. Having an air cleaner added to your HVAC system is the most effective way to clear out contaminants and allergens house-wide.
For personalized spring cleaning solutions for your Fort Wayne home's HVAC, contact us at Hartman Brothers Heating & Air Conditioning.
Our goal is to help educate our customers in New Haven, Indiana and surrounding Fort Wayne area about energy and home comfort issues (specific to HVAC systems). For more information about other HVAC topics, download our free Home Comfort Guide or call us at 260-376-2961.